Photographer Carlos Garcia Rawlins captured portraits of animals who have been left in a shelter as the country faces an unprecedented economic crisis.
Dog owners in Venezuela have been forced to abandon their pets as the country's crippling economic crisis has meant they can no longer afford to keep them.
The ongoing situation has led to triple-digit inflation and severe shortages of essential supplies like food and medicines.
This has meant that ordinary Venezuelans have been forced to abandon their pets, as they can no longer afford to feed them.
While the minimum wage in the socialist country stands at $23 per month, a 20-kilogram packet of dog food can go for $50 in the black market — double the price in the United States.
Carlos Garcia Rawlins / Reuters
Reuters photographer Carlos Garcia Rawlins and journalist Girish Gupta traveled to the Famproa shelter in Los Teques, in the hills near the capital Caracas, to visit some of the dogs that have been suffering during the country's plight.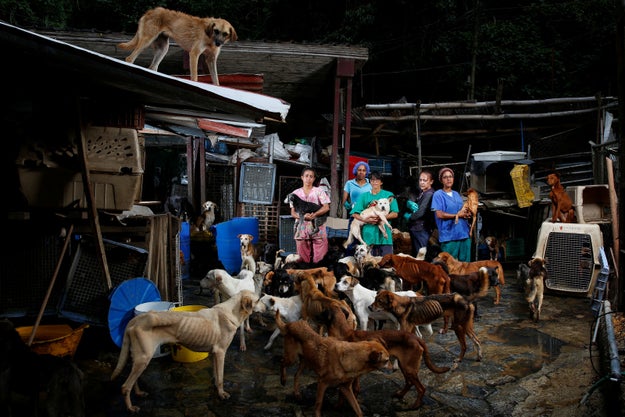 Carlos Garcia Rawlins / Reuters
The shelter's founder Maria Arteaga, 53, told the reporters she has seen a noticeable increase in dogs arriving over the last few months — animals are dropped off every few hours, she said. Nine poodles were left there in the last two weeks alone.
"The crisis has hit hard. People are abandoning their dogs because they can't afford food and because they're leaving the country," Arteaga said.
During their visit to the shelter, Rawlins took moving portraits of the animals, while one of the center's staff, Maria Silva, told the dogs' stories.
Celo (On Heat)
Celo was given her name because she was left outside the shelter in the middle of her fertile stage. "When the volunteers arrived, the place was a mess. All the males, although they were castrated, were going crazy."
Carlos Garcia Rawlins / Reuters
---