Let's re-examine some of the popular theories about Taylor and Tom.
In sad celebrity news, Taylor Swift and Tom Hiddleston have reportedly split after a whirlwind three-month romance.
Getty Images / Via Getty Images
People were shocked at the romance, which appeared to come completely out of the blue and progressed at an alarming rate. So much so that conspiracy rumours sprung up all over the place, in order to explain the relationship. Now that it's over (sob) let's take a look back at those theories – and where everything stands now.
The theory: Taylor wants album six to be about love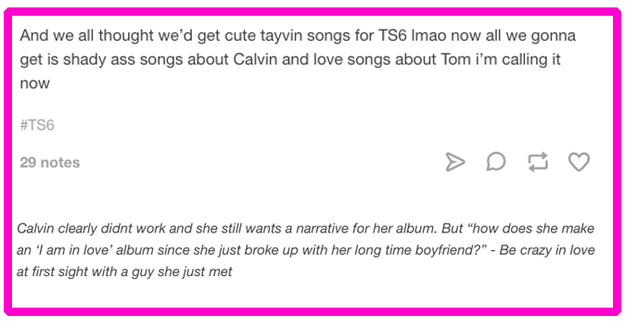 A lot of Taylor's fans believe that she wants her sixth album to differ lyrically from her previous offerings. Specifically, she wants to write an album about being in love. This would be pretty momentous for her, especially given the sexist commentary surrounding her "breakup songs and albums". Writing an album about love would shut down the narrative of her being a boy-crazy serial dater once and for all.
taytaysbeard.tumblr.com / Via she-so-swift.tumblr.com
---