Laura says she wants to show people all the violence that can come from a woman rejecting beauty standards.
Laura is a Belgian philosophy student. Last month she shared an image of herself from a photoshoot in May about body image with photographer Florence Lecloux.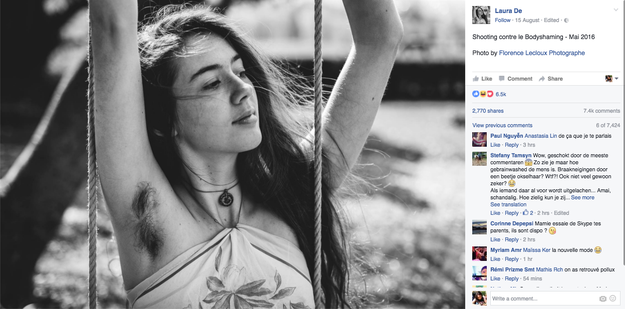 Laura De / Facebook
I do not often talk about my struggle against the dictatorship of the smooth body .. Let me explain! One of the worst things it is the constant oppression of girls and women having to remove hair / shave on the entire body. Where does this idea to do his hair disappear? Why are valued my long hair but not the rest of my hair? Why waste time and money? Often it hurts, we cut the epilator hard, it pushes it again … It never stops. Why this endless fight? Who can make me hurt me to lose my life for that? Well I have the answer: NO ONE! Nobody has the right to require you to do certain things with your body. Your friends do not have to blame yourself, your lover / partner / .. not to call you a lack of hair, the unknown do not have to disfigure you in the street. Hair removal or not, makeup or not, fashionable or not, it's only you who decide, not others. Dare, be authentic, you will keep close to you as non-toxic people.
Via florencelecloux.tumblr.com
After Laura shared the photo to her Facebook, she began to receive abusive comments for showing her armpit hair.

"Well good luck with the tarantulas under your arms!"
Laura De / Facebook

"Fucking slut haha."
Facebook
---