A homeless man in Florida and a truck driver in North Carolina have died since the tropical storm began hammering Florida, Georgia, and the Carolinas Friday with heavy rain and winds.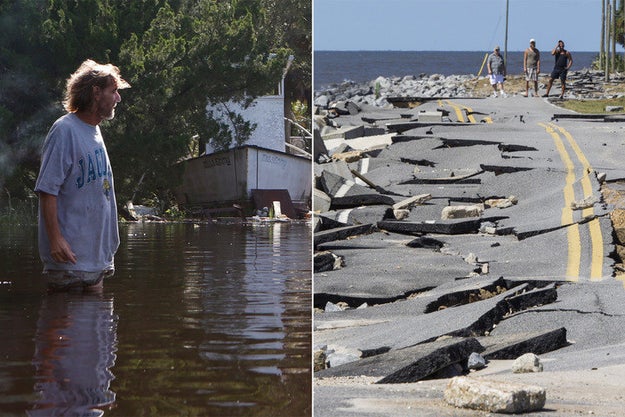 A man, left, surveys flooding and storm damage in St. Marks, Florida, and residents, right, look at a broken road in Alligator Point, Florida, Monday.
Getty
At least two people have died since Tropical Storm Hermine, downgraded from a hurricane, made landfall in Florida.
When it first made landfall as a hurricane, Hermine was the state's first in more than a decade. It has since blasted through the South, threatening to restrengthen and lash populated areas along the eastern seaboard through the Labor Day weekend.
A homeless man was killed in Ocala, Florida, on Friday when a tree fell on top of a tent he was sleeping in with two other people, according to the Marion County Sheriff's Office.
On Saturday, high winds in North Carolina caused an 18-wheeler truck to tip over on the freeway, killing him and resulting in a total shutdown of the road, according to the Associated Press.
Hermine made landfall early Friday in Florida, knocking out power to hundreds of thousands of people.
The storm has left 15 Florida communities without power, Gov. Rick Scott said in a statement on Saturday. In Leon County, more than 78,000 people, or 57% of the population, do not have electricity.
"It is a problem that so many people do not have power and I fully expect every city and county official to aggressively fix this," Scott said.
More than 100,000 people are also without power in neighboring Georgia, the Associated Press reported. The storm also knocked out power to 76,825 customers in South Carolina.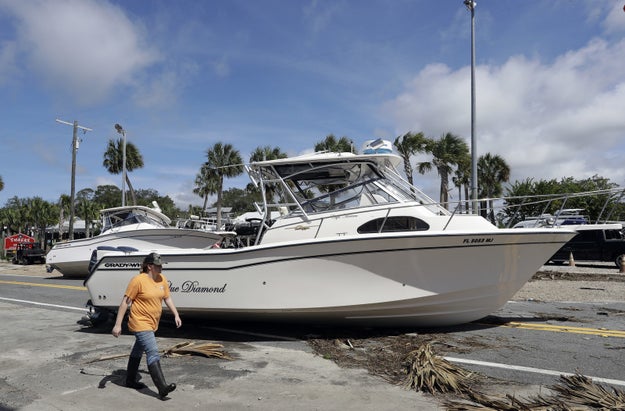 A woman walks past boats that were washed ashore in in Steinhatchee, Florida, Friday.
Chris O'meara / AP
Hermine weakened as it moved over land and by Friday afternoon was located about 35 miles southwest of Myrtle Beach, South Carolina.
The storm was packing maximum sustained winds up to 50 mph and was dumping heavy rain on the area.
---