*You inherited big problem-Kerry
*IDPs camps to close May, 2016-Northern Govs
By Levinus Nwabughiogu
ABUJA-President Muhammadu Buhari has reiterated his position on corruption, assuring that he his government would deal decisively with any individual found to be corrupt.
He said that the anti-corruption war knew no bounds, saying that new orientation would be given to the public officers to come to terms with the culture of his government.
This was even as the visiting US Secretary of States, Mr. John Kerry stated that president Buhari inherited a big problem from the previous government.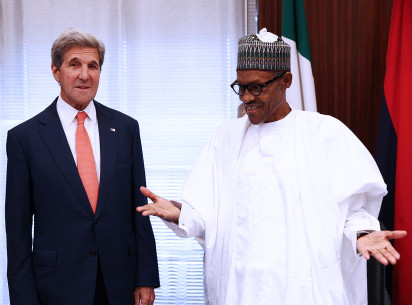 Similarly, the northern governors especially those in the Boko Haram ravaged States have also given May 29, 2017 as a day to resettle the Internally Displaced Persons, IDPs who had been in various camps consequent upon the insurgency in the north east.
President Buhari made the reiteration while hosting the US Secretary at the presidential Villa Abuja on Tuesday.
He declared: "We will insist on the standards we're establishing. We are laying down administrative and financial instructions in the public service that must be obeyed. Any breach will no longer be acceptable."
"We will retrain our staff, so that they understand the new orientation. And those who run foul of these rules will be prosecuted, no matter who is involved. But we will be fair, just and act according to the rule of law. Anyone perceived corrupt is innocent till we can prove it. We will work very hard to establish documentation for successful prosecution, and those in positions of trust will sit up."
President Buhari appreciated the intervention of the U.S before the 2015 polls, demanding free and fair elections in Nigeria, saying, "America did not do it because of what it stands to benefit from us. You did it for the Nigerian people. It tells so much what the U.S stands for in the world."
On the Boko Haram insurgency, President Buhari thanked the U.S for both hard and soft military help.
"The training and intelligence that we could not muster ourselves, we received. The training has made Boko Haram less of a threat to Nigeria and the Lake Chad Basin region, while the military hardware has given our troops added confidence."
President Buhari said though Militancy in the Niger Delta has impacted negatively on the economy and affected the positive intentions of international and local investors, government was showing restraint not to use real force, "except when constrained to do so."
On the economy, the President assured that the focus of his administration was on the diversification of the economy having learnt our lessons from years of over dependence on oil.
In his remarks, Mr. Kerry commended the courage of President Buhari in fighting corruption, saying: "We applaud what you are doing.
Corruption creates a ready-made playing field for recruiting extremists. You inherited a big problem, and we will support you in any way we can. We will work with you very closely. We don't want to interfere, but will offer opportunities as you require."
The American Secretary of State also pledged to assist in tackling the humanitarian challenges in the North-east, adding that his country would get the UK, France, and others "to augment the support."
"Nigeria is priority for us. We won't miss the opportunity to work together, because you are making significant progress," Mr Kerry said.
Meanwhile, briefing State House Correspondents after a meeting with Kerry, the four governors of Bauchi, Mohammed Abubakar; Borno, Kashim Shetimma; Kwara, Abdulfatai Ahmed; and Sokoto, Aminu Tambuwal said the meeting featured discussions on insurgency among others.
Shetimma who is the spokesman of the group briefed the press.
He said: "We had very fruitful, cross-pollination of ideas with the US Secretary of State, John Kerry. The issues we dwelled on enhancing the well being of our people and ensuring stability in the Nigerian nation.
"We discussed the issue of insurgency and other security challenges in all subregions of northern Nigeria . But fundamentally, we made him to realise that underneath the mayhem by Boko Haram lies the real cause which is poverty. And we called on him to come in with their American support in the areas of job creation largely in the areas of agriculture and minning.
"We spoke on education which is essential for any society because the whole world is becoming knowledge driven. We requested for support in the area of girl-child education and gender empowerment. And of course we sought for support in strengthening our health care facilicities and health insurance that will really enhance the values of lives of our people . Because most of our problems are issues that can be attended to at the primary health care level.
"And lastly, we discussed about renewable energy. Because power whether we like it or not is sin qua non for energy take off , no society can grow without adequate power support. So we requested for support in the area of renewable energy be in solar of wind.
"But the important thing is in spite of the advancement in science, nothing can replace personal contact in diplomacy. We were quite pleased by the warm reception and deep commitment to Nigeria by the Secretary of State and we are happy with the outcome."
His Kwara colleague, Ahmed, however said that the meeting was not a talkshop as all decisions would be followed up.
"One area that was emphasized is looking at this meeting beyond being a talk show, that there is need for us to see it driven under actionable plan that will translate to the expected goods and services for our people and truly strengthen the synergy for improved service delivery", he said.
Fielding questions from Journalists, Shetimma hinted that the IDPs camps would be closed by next year May.
"On the issue of humanitarian crisis is dear to the United States, a chunk of the World food programme is being funded by the UNAID which is an arm of the United States government, the most important thing is that for us as a nation, the most fundamental thing is for us to recognise nobody can solve our problems. We have to take charge of our destiny and do what is right to take care of the needs of our people.
"On the issue of resettlement, the bulk of IDPs are from Borno State , the population of Maiduguri has swelled from two million to three million now. And where there is a will there is always a way. Believe me by May 29th next year we want our people to go back to their homes. We are going to marshal whatever resources with or without international support to see that we have restored the dignity of our people.
"We cannot wait for eternity for manner for heaven from international community to develop our communities. The biggest IDP camps is in Kenya, the Kenyan government has finally summon the political courage to close down that camp. In most of the camps there is challenge of early marriages, child prostitution, drug abuse, of ganterism etc. The sooner we close them down the better. In any case no matter how good life is in the IDP camp there is no place like home. We want to restore their dignity, we commencing the rebuilding of Bama.
"By May 29th next year believe me, you will hear very little about IDP camp. We will adhere to the Kampala convention we will not compel anyone in IDP camps to go back to their community. But you know our people, they carry their poverty with dignity and they are willing to go back home.
"We have to credit to the president, a year and half ago Maiduguri was on the verge of falling into the hands of Boko Haram, 20 local governments were under their control but now most of our communities have been liberated and once full peace is restored we see nothing that will stop us from moving our people back to their communities"
Reacting to Kerry"s statement that the crack down on Boko Haram will breath contempt", the Borno governor said that they were adopting a holistic approach to end insurgency.
"Well, unless we want to engage in an endless war of infliction, security is just one way of pursuing peace in the north east and Nigeria as a whole. We are on the same page with the Federal Government. We are adopting a holistic approach encompassing the political , economic as well as the security elements in securing peace in the country. Because the Boko Haram is not a uniform outfit with shared ideology and focus, their perspective differ a lot. It is like Bamuda triangle, in one hand you have the economically induced Boko Haram who are amenable to dialogue who can lay down their tools and be part of the reintegration process of the deradicalisation process of the rehabilitation and resettlement process. And then we have the die-hard, those that have been called the ahilinist, people who are hell-bent on a suicidal part and there is very little you can do and you cannot even talk to them from a position of weakness.
"Now we can talk to them because we are in the position of strength and we amenable to dialogue. I can assure you that the federal government is equally amenable to dialogue but the dialogue has to be conducted with credible leadership of Boko Haram", he said.
Lending his voice on other matters of interest discussed at the meeting, Sokoto Governor, Tambuwal said that emphasis was made on the girl-child education.
"In specific terms, I can say that there are commitments specifically on education with particular emphasis on girl-child education, commitment on health care and renewable energy.
On renewable energy, we talked on the programme of President Obama and on Power Africa and Opic, overseas private investment operations, interventions in funding renewable energy projects across the north in particular. Namely: solar energy and wind energy", he said.
We'll deal decisively with any corrupt individual, Buhari tells Kerry on Vanguard News.