By Hugo Odiogo
ASABA—Former Chairman of Delta State Peoples Democratic Party, PDP, and Delta North Senator, Chief Peter Nwaoboshi has been dragged before a Delta State High Court sitting Asaba, for alleged disobedience to an injunction granted by Justice Azinge of the state High Court arising from the ownership tussle between DavNotch and the Senator (Nwaoboshi) in which all parties were restrained from accessing the parcel of land pending the determination of the substantive suit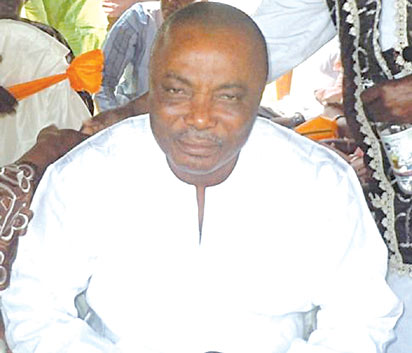 .According to DavNotch's counsel, Sola Rhiogbere, his client, DavNotch had instituted a case of trespass, in suit No A/104/2016, accusing Nwaoboshi of trespassing on his land, a claim Nwaoboshi denied and shunned adherence to the injunction on the disputed property.
The counsel said that "sequel to the development, form 48: notice of consequences of disobedience of court order was filed and served on Nwaoboshi in the manner earlier granted by the court when ordering substituted service of the originating and all other processes on the Senator but surprisingly, the federal lawmaker still defied the order and was subsequently served with form 49: notice to show cause why order of committal should not be made against you (Senator Nwaoboshi)."
This development, Rhiogbere said was preceded by him petitioning the Delta State Commissioner of Police, Mr. Zane Ibrahim, alleging that in May this year, some persons believed to be agents of Chief
Nwaoboshi, forcefully broke into the company's land measuring 4019.440 square meters and began construction.
He stated that the ownership of the land was incontestable as available authenticated documents show that the Davnotch Int Company owns the land situated at plot 37, Core Area, Central Spine, Phase IV, Asaba.
It was gathered that the same parcel of land which is being claimed by Chief Nwaoboshi was, however, not substantiated by documentary evidence rather, a close associate of Nwaoboshi responded that the said land was allocated to the company in 2003 during the then Ibori administration without showing any documents.
Hearing in the case resumes on October 12, 2016.
Sen Nwaoboshi dragged to court for defying court injunction on Vanguard News.