Senate Leader,  Sen. Ali Ndume, has called on agitators of restructuring of the Nigeria to be cautious in their demand.
Ndume made the call while addressing newsmen on Tuesday in Abuja.
He said that what was required to reposition the economy was good governance at all levels of government and not restructuring as being clamoured.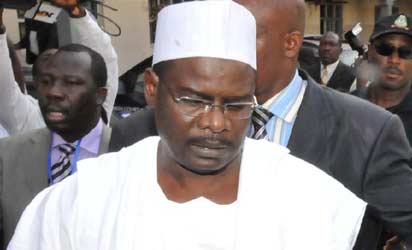 He said that finding solutions to the enormous challenges ravaging the country, including economic hardship and security should be the focus and not restructuring.
"Whatever it is, my own position on the clamour for restructuring is that since we are in the era of democracy, the people should be allowed to decide and not individuals.
"Nobody should claim monopoly of interest of the people from his or her area by sitting down with few others and calling other zones, saying that Nigeria should restructure; no, I don't support that.
"I support collective decision by Nigerians. We came together collectively not by force, not by insult, but by negotiation.
"Even our colonial masters wanted to carve out a country called Nigeria and out of three basic regions, north, western and eastern regions, there were series of conferences that led to that.
"As at 1957 or 1958 when Nigeria was ready and even our colonial masters were ready to grant us our independence, the north said it was not ready then.
"This made both the Western and Eastern regions that didn't want to go their separate ways at that time to wait till 1960 for independence for Nigeria.
"In fact, in 1979, the Secretary to the State Government of Borno State was a Yoruba man and the Chief Justice of Borno State was an Igbo man.
"They were living in harmony with people of their host communities without calling for restructuring,'' he said.
On economic situation in the country, Ndume said that drop in price of oil at the international market and vandalism of oil pipelines by aggrieved militants in the Niger Delta had plunged the nation into hardship.
He, however, assured that with gradual rise in the price of oil in the international market and resolve of the militants to give peace a chance in their area, the hardship would become a thing of the past.
He said that President Muhammadu Buhari was not to be blamed for the hardship, noting that none of his critics had been able to proffer solutions to the problems confronting the country.
"I am one of the strong supporters of the president because I know that the person of President Muhammadu Buhari has very good intentions for this country.
" He didn't come to power in other to make anything for himself but to fix Nigeria and move Nigeria forward.
"The first three priorities of the government are securing the nation, fighting corruption and putting in place needed infrastructure for genuine development.
"Now the issue of people suffering, especially in terms of the cost of living is well known and no leadership can pretend that it doesn't know this.
"But the question now is, is the solution there and is deliberately being refused? The answer is `no'.
"We are a mono-product economy, the price of our dependent source of income which is oil, went down from above 100 dollars to below 30 dollars at one point and it is now gradually trying to recover.
"That is our major source of income and even when the price was recovering a little, the issue of Niger Delta Avengers cropped up.
"Pipelines were blown up and production went down from 2.2 million barrels per day to 1.4 million barrels per day or even less,'' he said.
Ndume called on Nigerians not to lose hope in the present government, assuring that things would turn around for better soon.
Restructuring not solution to our problems– Ndume on Vanguard News.