By Gbenga Oke
LAGOS—The Ooni of Ife, Oba Enitan Ogunwusi, yesterday, urged the Nigeria political class to champion the cause of emancipation of teeming youths in the country and charged the leaders to live an exemplary life worthy of emulation.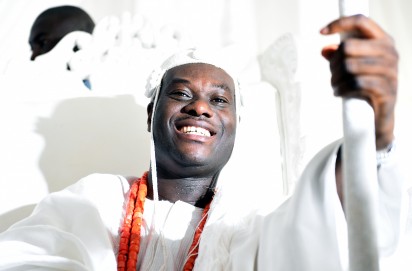 Speaking during the Hall of Grace Awards Dinner to celebrate Distinguished Nigerians, the foremost traditional ruler said: "Do we have great leaders in Nigeria today? Does an average youth in Nigeria today have a leader he can look up to?
''To me, what is most important is how well you have lived your life, how many people have you helped in your society?  How well have you championed the cause of emancipation, especially of the youths and not the money you have in your account?  For me, values count for us in Yoruba land and not how much you have.
"In the past, people were afraid to spend their ill-gotten wealth, we were after values, morals, we were after things that are impactful. But today, the younger generation are wasting away and it is a challenge to the elders.
''What will they say about you when you leave power and what will people remember you for after leaving your position.
"The price everybody will pay in life is death but when you leave, what are the good things people will say about you? We should all strive to bring good initiative alive so that the coming generation will remember such a good initiative that will instill values and morals back to the country."
In his keynote address, Professor of Agricultural Economics, Dupe Olatubosun, decried the corruption which had been the way of life in Nigeria.
According to him, for Nigeria to overcome the problems of corruption, both the politicians and the military need to come together to tackle it.
He said:   "Today, our governors, National Assembly members, ministers have been living opulent lifestyles which is above their means. I believe both the military and politicians need to check the corruption going on under them and that is why I feel strongly that Nigerians must support President Buhari in this corruption fight, not considering whose ox is gored.
''To get it right, Econonic and Financial Crimes Commission, EFCC, and the government must fight corruption, even within the government of Mr President.
"I believe strongly in the restructuring of Nigeria. Without restructuring, continuation of poor management of resources, militancy and corruption will continue in Nigeria. Restructuring does not bring the country down, rather it brings back economic downturn of the country.
"There is elimination of the middle class in Nigeria today, while several people live in abject poverty, even as a few are living in wealth that belongs to all of us. Successive governments have successfully killed the middle class in Nigeria. That is why the fight against corruption needs to be sustained. We need to embrace our values, Buhari cannot do it alone, he needs the collaboration of everyone."
Charting the way forward, Olatubosun said:  "It is very unfortunate that our politicians now see politics as business and not a place to serve the masses anymore. They are always interested in what is in politics for them."
''For us to move forward, politicians will need to drop their opulent lifestyle, while the masses are suffering and we need to change the tide of politics in Nigeria. Politicians need to change their attitude and they need to consider the masses first before their own selfish interest".
Dignataries who graced the event also include Ooni of Ife, Oba Enitan Adeyeye Ogunwusi and his Olori Wuraola Ogunwusi, Chief Alex Akinyele and Kwara State Deputy Speaker, Hon. Mathew Okedare.
Ooni of Ife to leaders: Champion emancipation of our youths on Vanguard News.