Chief Jamiu Afolabi  Ekungba, a leading governorship aspirant on the platform of the All Progressives Congress, APC in Ondo State, in this interview with journalists, in Ilorin spoke on why he wants to govern Ondo and his chances among others.
By Demola Akinyemi,
On why he is aspiring to govern Ondo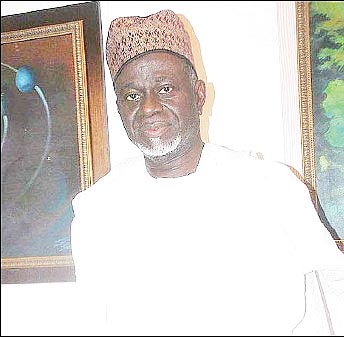 I'm the only person that has a unique background of being brought up by an elderly father, a highly respected father. My dad's antecedent makes me someone who must be a man of honour and integrity who will not be flamboyant about the high conviviality of the throne.
I have cognate experience in banking, I passed through banking and banking passed through me, so up till today, people still ask me questions about banking. Today,we have an economy in Ondo State that is owing salaries of about 11 months, an economy that is battered and bruised with high profile debts. There are so many debts in Ondo State that are not accounted for, even Governor Olusegun Mimiko cannot account for them.
As a banker, an accountant and consummate forensic auditor, I'm the kind of person who can inherit the bad economy in Ondo State and the state will able to stand on his feet within four months because I will be able to know the extent of the damage.  I know how to mend an economy.
On concern over 40 aspirants in APC
We are not likely to be up to 40, even 22 is a large number. So, how am I going to do it? I didn't become a member of board of trustees of the party by accident; it was designed by God and the love our leader, the leader of APC had for this state. I was picked on merit.  The national leader know and what made them to pick me on merit is still there, I have not changed. There's no aspirant that has worked as much as I've worked.
Today, I have structure in the 203 wards, recently I asked 600 of my coordinators to join me for the declaration at the state, over 2000 of them came for the programme and our ability to effectively take care of the 2000 to their satisfaction when we were actually expecting just 600 was news all over the place.
They are saying this man has what it takes to run this state. So, no matter the obstruction,  I am the right man for the job.
Scaling the August 27 primaries
I have a good relationship with all the aspirants. By the grace of God when I win on August 27, most of the aspirants will find it very convenient for us to sit down, work out a structure with which we are going to set up a dynamic, workable government as from November 27 when I win the election.
I know all the aspirants , I have met them one on one, none of them has had issue with me which is fundamental that will make it difficult for them to want to work with me when I win the primary.
His blueprint for Ondo State
The present Ondo State Government is running what I call a closed government, so we are entitled to some information.
As a forensic auditor, banker, and an accountant, I can tell you that within my first 45 days, I will be able to know the state of the economy of the state and I'll call all Ondo State indigenes and explain to them the state's economy.
In that 45 days, I'm going to fix the economy. I will let the people know the way to move from the debt we are in and I've also said it, in the first 90 days of my administration, we are going to take 20 youths from the 3009 polling units and train them.
They are many, 60000, we will not be able to train them at a go, there will be three batches; we are going to bring consultants to train these 60000 youths, some of them will teach in our primary schools because in every class in primary school 1-3, I'm going to put two teachers.
Between 6 -8 years, after my administration, education will be at its absolute best to the extent that we will be attempting to lead as one of the best in WAEC and every child of Ondo state will become proud of education.
I'm a farmer. In my first 18 months of administration, Ondo state will be a food market for Nigeria.
More than 75 per cent of people in Ondo state buy food, if not imported from abroad, it is from outside this state.
So in my first 18 months, Ondo state must be able to realize agric products to meet at least 40 per cent of what we need.
I'll fix Ondo battered economy in 45 days — Ekungba on Vanguard News.