By Jimoh Babatunde
LAGOS—The Minister of Information and Culture, Alhaji Lai Mohammed, has reassured the Artists' Village community at the National Theatre, Lagos, that the government has not abandoned them.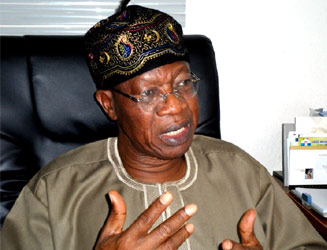 The Minister, who stated this in Lagos at a meeting with the representatives of the Artists' Village, restated the government's commitment to compensate those whose studios and artefacts were destroyed during the demolition of illegal structures and shanties at the National Theatre, Lagos, in January this year.
"I have just come here to let you know that we have not abandoned you. We promised we are going to compensate you but you also know that the wheel of government grinds slowly.
''I think it's enough to convince you that we mean well. So it's not correct to say that the government has abandoned the Artists' Village as I read in the newspapers recently," he said.
Alhaji Mohammed appealed to the artists to reciprocate government's gesture and goodwill by constructively engaging it (government) instead of confrontation, which will not help their cause in anyway.
"It appears that some of us have not switched our mode from analogue to digital. We still believe in the politics of confrontation rather than politics of engagement. We still believe in us against them. I came to this office with no baggage at all; I have no prejudice or bias. I came to this office with the single-mindedness of advancing culture, tourism and arts," he said.
The Minister stressed the need for synergy between the ministry and the Artists in order to advance the creative sector, saying anything less than that will be detrimental to the industry.
He described the Artists' Village as a critical component of the entertainment industry, saying his ministry has signed Memoranda of Understanding with various local and international organizations for capacity building and scholarship for the artists.
"The Artists Village is there to stay. I have said it loud and clear. I have not taken any step to the contrary. Whatever I have done, everywhere I have gone, is to promote the cause of the cultural and creativity industry," he said.
Meanwhile, Alhaji Mohammed added that the ministry has commenced the process of activating the Presidential Council on Tourism (PCT) as part of efforts to fast-track the development of tourism in Nigeria.
He said a Steering Committee meeting, which will draft the agenda for the inaugural session of the PCT, will hold on Sept. 6th 2016.
Govt has not abandoned you, Minister tells artists on Vanguard News.