By AbdulSalam Muhammad
KANO – In a dramatic turn of events, the Kano police Command Tuesday evening withdrew it's personnel barely 15 hours after siege.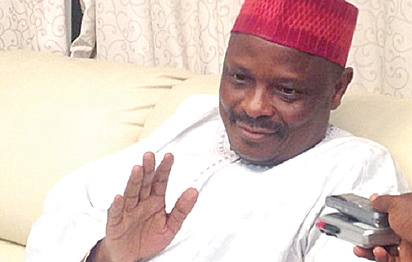 Police authority in Kano are keeping sealed lips over the soft stand effort to speak with the police Commissioner, Rabiu Yusuf proved abortive .
However, Vanguard learned that the withdrawal of the police officers was sequel to complaint allegedly lodged to higher authorities by the sitting MP.
As at 6.00pm thatVanguard visited the Lugard road residence of the former Governor, it was empty devoid of bustle and hustle associated with multi-million naira Guest House.
Shortly after the withdrawal, handful of Kwankwaasiyya faithful rushed to occupy the building to celebrate their freedom.
The link roads to Kwnankwaso's Lugard residence that were initially cordoned off have been open to free flow of traffic.
The seal up of Kwankwaso's residence according to the police was done to "prevent illegal assembly"
Breaking News: Police withdraw from Kwankwaso's home on Vanguard News.