By Jimitota Onoyume
PORT HARCOURT— Governor Nyesom Wike of Rivers State has called on Nigerians to hold the acting  Inspector General of Police, Mr Ibrahim Idris, responsible if security collapses in the state. The governor made the remark  at the opening of the ongoing conference of the Nigerian Bar Association,  NBA,  in Port Harcourt,  Rivers State.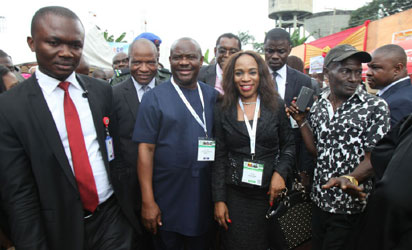 Describing governors as fictional chief security officers of their states, Wike accused the IG of deliberately posting officers with questionable records to the state despite protests by the state government.
He said: "All too often, state governors are unduly blamed for security challenges in their states. But we all know that governors are fictional Chief Security Officers, relevant only for the financial support they could give to an operationally challenged security substructure."
The governor said that the officers who were manning critical security formations in the state were out to compromise the state's security because of their alleged hostility to the government.
"Recently, the Inspector General of Police, despite our protestations, posted some questionable senior police officers to command and control very critical security formations in the state," he added.
Wike said that political opponents were allegedly behind ing of the senior police officers to the state, stressing that political  considerations had become the cardinal factor for the deployment of security heads to the state.
Wike alleges plot by acting IG to destabilise Rivers security on Vanguard News.