By Chioma Obinna
Ahmed Garba, 20, lives with deformity. This is particularly visible in his limbs, hips, ankles and feet, due to prolonged weakness and lack of appropriate orthopaedic bracing after he was stricken by polio, a contagious disease as a baby.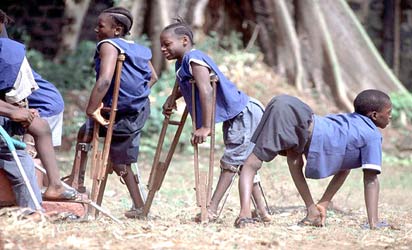 With his eyes seeming disfigured, he wore a hard and angry appearance which made him look older than his age. His legs were flaccid, the effects of the disease and unable to bear his weight. Ahmed is one of many Nigerians  who have become victims of polio for no fault of theirs.
But  he is not alone.  40-year-old Jega Karimu was struck by polio at the age of two. Riding his tricycle  is usually not too tasking. But  the dilapidated and muddy roads in his area have  made it  easy for him to navigate. No week passes without the tricycle breaking down, no thanks to rainy season. Every day, Jega  prays that none of his future family members  shall fall victim  of polio. "Because of the limitation I have suffered due to my present predicament, I do not pray that any of my generations to come will have polio, he said."
"I cannot stand to watch my relatives go through this. Each time my tricycle is bad, and I have to  cross an open drain, I get off it and walk on my hands."
Today, Ahmed and Jega's deformed limbs have limited every aspect of their lives.  Instead of getting involved in active businesses, they and other victims of polio drag their bodies along the mucky roads begging for alms.    As males, neither Ahmed nor Jega can play foot ball.
However, for Karima Usman, a Kastina State born polio survivor, fighting back has remained the only way to prevent other Nigerians coming down with polio. Affected by polio at age 3, her single-minded mission has been to ensure that all children receive the vaccine that prevents the crippling and potentially life-threatening virus from affecting them. "No one used to go house-to-house giving OPV when I was small. That is why I got polio. But, now, OPV is available but some parents are not letting children take it," Karima said.
She is one of the hundreds of members of the Polio Survivor Group (PSG) who used their situation to convince parents in the northern part of the country to allow their children take vaccination. "Most people get convinced easily when they see my condition and realize what poliovirus can do," she said in a report.
From Ahmed, Jega and particularly  Karima, one thing that would have paid for their sufferings and efforts would have been the much awaited World Health Organisation, WHO, polio certification after two years without a case of the dreaded disease.
But their dream was never to be as the August 11, 2016 event may have cut short their dreams and other Nigerians who have worked tirelessly to ensure that polio is eradicated in Nigeria.
According to WHO, one in 200 polio infections will result in permanent paralysis.
Polio, also known as poliomyelitis, is a highly contagious disease caused by a virus that attacks the nervous system. Children younger than five years old are more likely to contract the virus than any other group.
Last Thursday  would have marked the second  anniversary of polio free Africa and, if Nigeria had made it, WHO would have certified it as polio-free, and Africa would have joined the league of four other regions, Americas, Europe, the Western Pacific, and South-East Asia, in eradicating the dreaded paralytic disease.
Sadly, the disease, once again, gave the likes of Ahmed, Jega and Karima another blow as their dreams of having no member of their family come down with polio was shattered with the confirmation of two new cases involving two children in Gwoza and Jere Local Government Areas  of Borno State by the Federal Government.
Even the Minister of Health, Prof. Isaac Adewole, confessed that the development has set Nigeria back as it has to start afresh.
However, since the announcement, many questions have been on the lips of Nigerians such as what went wrong?    Why now?      In response, experts say there are glaring gaps in the polio vaccination programmes.
To  the President, Nigerian Academy of Science, NAS, Prof. Oyewale Tomori, the new polio outbreak threatens Nigeria's steady march to the eradication of polio.
Tomori, who noted that Nigeria was removed from the list of polio endemic countries after a long and tortuous eradication campaign, blamed the  latest  outbreak on lack of  commitment and complacency.
The professor of virology said: "After attaining non-polio endemic status in September 2015, commitment waned and complacency set in. This was particularly evident at the levels of the National Assembly, governors and local government area chairpersons.
"This complacency meant that polio eradication activities were no longer backed by adequate and timely counterpart funding at the state and local government area levels. This was despite a public and often vocal commitment to polio eradication from Nigeria's President Muhammadu Buhari.
"As a result, gaps remained in the quality of immunisation and surveillance activities. These were especially prominent in the country's security compromised areas."
The wild poliovirus (type 1) isolates were recovered from residents in Gwoza and Jere local government areas in Borno state in northern Nigeria. Genetic sequencing suggests these isolates are most closely linked to the wild poliovirus type 1 that was last detected in the state in 2011.
He explained that the current outbreak has set Nigeria back by at least two years – provided that no wild polio virus is detected in the future.
Tomori, who observed that insecurity seriously hampered effective routine and special immunisation activities, stressed: "Nigeria must focus on attaining polio free status over the next three years and concentrate less on prematurely celebrating victory."
Also, Project Director, the Community Health and Research Initiative, CHR, Dr Aminu Magashi Garba, linked the fresh outbreak to non-release of the N12.8 billion approved for routine immunization five months after the President's assented  to the 2016 budget.
Magashi-Garba expressed worry that the continued delay may put the lives of over 7.2 million Nigerian children in danger or  even cause more outbreak of polio and other vaccine – related childhood diseases.
"For Nigeria to return on track of winning the war against polio and deliver the African continent from the clutches of wild polio, immunisation is the way to go", he said.
"To save the lives of our children and save the country the scarce resources by reducing cost of health care as well as give the future leaders the opportunity to live their potential, government at all levels must ensure 100 percent coverage of immunization.
"If we as a nation cannot provide health care to our children, what message we are sending to the world?"
Meanwhile, speaking on a  television programme, the Chairman, National Polioplus Committee, Rotary International, Dr. Tunde Funso, identified poor cold chain system as a major factor in the return of polio.
"According to the eradication plan drawn by the Global Polio Eradication Initiative, the oral vaccine itself is fragile, requiring constant refrigeration. When there is significant weakness in the system, it goes a long way to affect the system", Funso stated.
To him, in states like Borno where there is insurgency, for the cold chain system to be effective, there must be electricity or ice to ensure effective system.
Acknowledging some form of failure on the part of the country, Funso said  Nigeria has failed  to  maintain  infrastructure as well as full coverage of all the children in the area.
He stressed the need to strengthen the nation's routine immunization programme as well as intensify surveillance activities.
"Government has come up with strategies to curb the outbreak. One of the strategies is to make sure that a lot of children get immunized. Because of this outbreak we need to have three rounds of immunisation which will take place in Borno, Gombe, Adamawa and Yobe State on the 27th  of August, 24th  of September and 27th  of October,"he stated.
"The strategy is to make sure we capture as many children as possible. The second strategy is to increase the immunity of children to prevent new infection."
With the latest development, Nigeria must wait at least till the  last quarter of 2019 to receive a polio certification, if it holistically renewed sustained efforts in the fight against polio.
Past efforts
Before the setback, Nigeria has made remarkable progress through the prompt vaccination of children with  OPV vaccine.  According to WHO report, OPV  has prevented nearly 8.5 million  polio cases since 2000 world over.  In the last few years, all wild polio cases worldwide originated  from  Nigeria.
But  it is no longer news that the northern part of the country is home to tens of thousands of polio victims unlike the South. Unfortunately, insurgency activities have made matters worse, particularly in the areas where the new cases were detected.
Earlier in 2000, some Nigerian Muslims believed that the polio vaccine was so unsafe and that a dose of three bitter drops could lead to sterilization or cause HIV/AIDS. Their position then saw thousands of children crippled. But  thanks to efforts of polio survivors, like Karima, who went out of their ways to convince parents in those areas to allow their children to take the life-saving vaccine.
But  with the event of today, Karima and  a host of other stakeholders are wondering if polio can ever be overcome.
Causes of infectious virus
Poliomyelitis is a highly infectious virus that lives in the digestive tract and attacks the nervous system, causing paralysis in hours or days in one of every 200 children infected. It is marked by a severe and sustained high fever, muscle weakness and constipation. Poliovirus is often transmitted from person-to-person through fecal matter. People living in areas with limited access to running water or flush toilets often get the virus from drinking water contaminated by human waste that contains the virus.
Also, pregnant women, people with weakened immune systems, such as HIV+ people, and young children are more  susceptible to the polio virus.
How doctors treat polio?
There is no cure for polio. Doctors can only treat the symptoms while the infection runs its course.
How to prevent polio
According to the Centre for Diseases Control, CDC, the best way to prevent polio is to get vaccinated. Vaccination campaigns are almost the same globally.  Refrigeration is a problem in the world's poorest communities, where electricity is unreliable.
RETURN OF POLIO: '7.2 million Nigerian children in danger' on Vanguard News.