By Hugo Odiogor
Delta North senator, Chief Peter  Nwaoboshi and former Speaker of Delta State House of Assembly, Chief Victor Ochei, are again locked  in battle, but this time,  the bone of contention is their claims to a parcel of land in a choice  area of  Asaba.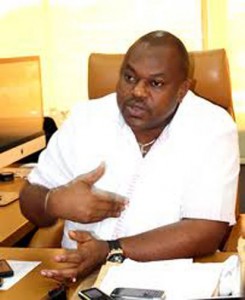 Aggrieved Chief Ochei is accusing Chief Nwaoboshi of trespassing on his land, which has resulted in a legal tussle,  but Senator Nwaoboshi denied the claim by the former speaker and would not adhere to the judicial injunction on the disputed property.
In a petition to Delta State Commissioner of Police, Mr.  Zane Ibrahim, counsel to Davnotch Company,  Olusola Rhiogbere, alleged  that in May this year, some persons believed to be agents of Chief Nwaoboshi, forcefully broke into the company's land measuring 4019.440 square meters and began construction on the land.
Documents presented by petitioner shows that the Davnotch Enterprises owns the land situated at plot 37, Core Area, Central Spine, Phase IV, Asaba. This is covered by Certificate of Occupancy, No. DTSR 14767 issued in 2010, approved by the then State Governor, signed by then Commissioner for Lands, Raymos Guanah, on behalf of the governor. It was registered as No. 47 on page 47 in volume Co 186 of the office of the Lands Registry in Asaba.  Counsel to Chief Ochei  accompanied his petition with details of payment for the land.
Vanguard investigation shows that the same parcel of land is being claimed by PON Specialised Services, a company which belongs to Chief Nwaoboshi. This was, however, not substantiated as Senator Nwaoboshi would not respond to calls and messages.
Sources close to PON Specialised Services told Vanguard that the said land was allocated to the company in 2003 during the then Ibori administration.
This is the kernel of the legal battle before the Delta State High Court sitting in Asaba, where the trial judge, Justice F. Azinge, in a suit No A/104/2016,  instituted by DavNotch Enterprises against PON Services had last month granted an order restraining both parties from further action on the land pending the hearing and determination of the suit.
Ochei, Nwaoboshi in legal tussle over parcel of land on Vanguard News.