*I was accused of killing him  – 90-yr-old Rev S.T. Ola Akande
*On Bola Ige's murder: My encounter with Omisore in prison; Fryo was my student
*On 1993 presidential bid: What Sultan Dasuki told me
SAMUEL Titilola Oladele Akande, the third indigenous General Secretary of the Nigerian Baptist Convention (NBC), fondly called  "the Archbishop of the Baptist Church of Nigeria", served the Convention in various capacities for 40 years (from 1951 to 1991), the last 12 of which he was the General Secretary.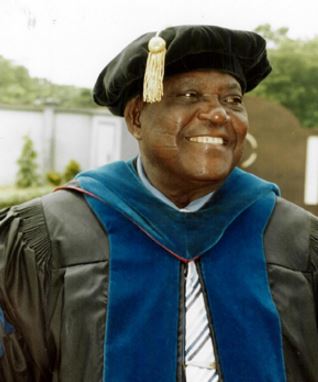 To his many admirers, Akande, born on March 31, 1926 in Awe, in  Afijio Local Government Area of Oyo State, was a dutiful minister, a courageous preacher, a talented teacher, and the "best  Baptist leader Nigeria  ever produced." In this interview  conducted  at his palatial residence in Ibadan,  the 90-year-old third  republic National Republican Convention, NRC, presidential aspirant vowed to preach till he clocks 120.
How does it feel to be 90 years old?
I just  do not feel it that I am 90 years. I still feel like I am in my 70s or 60s because, with the power of my brain to have been able to produce 12 books since 1986, I still feel like a young man. I wrote my first book in 1986 which was published in Yugoslavia and contained 69 sermons which I have preached over a period of 40 years. If it were not for the sore that developed on my right foot, I do not feel that I am 90 years. At the thanksgiving service where the people were rejoicing with me at 90, I told the congregation that I was giving them an invitation to be prepared to attend my 100th birthday.
You believe you will get to 100 years?
Yes! I believe! My father died at the age of 112 and he told me before he died that I must get to that age or go beyond it. That is why I don't feel sick, if not for this sore. My father transferred this sore
to me. He had it when he was 85 years and he died at the age of 112.
The only thing I cannot do now is to write books. I think I have done enough writing but I read newspapers.
You read with glasses?
I read newspapers and the Bible without glasses. Occasionally when I write my sermons, I can use glasses and I can also decide not to use it.
You still preach?
I still get invitations to preach and I honour such invites. I have a preaching engagement at the 80th birthday of a lady who requested that I should come and preach at the ceremony.
What do you do these days?
As soon as I finish my breakfast, I go to sleep because doctors have told me that the best thing I can do for my sore foot is to lie down on the bed and raise my legs on the pillow and the foot will not
swell. I do not have any sickness apart from the sore foot, no headache, body pain, back pain and no more sex: the urge will not even come.
What is the cause of the sore foot?
It's arthritis which I inherited from my father, and which developed to swollen foot and, after four years, there was a little sore that opened. I am treating it, and it is almost healed.
But when you have sore on one foot, it would affect the other; that is why I use walking stick occasionally. The problem is that if I sit down  for a  long time, getting up will be a problem for me.
Are you diabetic?
No! I thank God for that! My father was not diabetic before he died at the age of 112. None of my four sisters was diabetic. Two of them died, one at the age of 61 and the other at the age of 80 and none of my five children is diabetic. Medical doctors have tested my blood here in Nigeria  and  America, the result is negative. I am hopeful that God will give me the grace to preach until I clock 120.
What do you attribute that to?
It is a gift from God because I grew up in Ghana. I still speak Ghanaian language, Fante, very fluently. The way I speak English is quite different from the Nigerian way of speaking English. When I arrived from Ghana in 1952, and people were speaking English, I could not understand what they were saying. I was laughing at them and when I would say my own, they will also laugh at me but gradually, they liked  the way I spoke my English. When I was in Orita-Mefa Baptist Churh as  pastor, for three years, the place was almost packed full because  people wanted to hear the preacher's English.
What do you eat?
My food  is pounded yam with good soup like gbegiri, ewedu or Okro with meat. I used to like fish but the fish here in Ibadan is not okay for me. Occasionally, I call on my people in Lagos to buy sea fish for me from there. I eat amala occasionally. I don't like garri. I tell mama (his wife) to cook for me. My wife at 85 years is still strong and I wonder what the secret is; she remembers more things than I do. I told her that maybe when she gets to 90 years, her brain would tell her.
Your brain is still sharp and you recollect data, events easily…
A man of God from Owerri recently sent a message to me that he had heard about my books and that I also taught him in the seminary in 1974. He asked for some copies of my books which I sent to him and he later called  to say I should tell him how I got all the ideas, that I remember so many stories and I replied that I do not understand myself. The moment I sit to write, I remember many things. Like one of my books in Miracles, Mysteries and After Life, all I do is to just sit, sometimes  at night, and the inspiration will come. When the idea comes, I will jot it  down. The man of God requested that he would love to use one of my sermons in his church and I gave him the permission. He was also amazed that I typed the book myself.
Is there anything you have done before that you think you could have done differently?
I cry any time I remember the boys and girls whom I went with  to school. Only two of us  are still alive. I ask God why He has preserved my life; why has He not allowed these people to live. I also think of the years I spent in seminaries, in America and I did not have many friends any more to contact, it is very painful, very painful. I also remember those who allowed themselves to be misled; who were leaving a life of falsehood, lies, they did not tell the truth and they were punished by God. Some of those people have gone and it pains me. I cry when people tell lies around me. I warn them not to put me in 'wahala' (trouble), they should not let God turn His back against me and I believe that one of the reasons God has given me long life is because I stand for the truth all the time.
In 1992, I  ran  for presidency. While they were electing Chief MKO Abiola as the SDP presidential nominee  in Jos, my own people from Oyo State, who had elected me to represent them as presidential aspirant of the NRC, said unless I arranged hotel for them, they would not vote for me and I said the only thing I could  give them was hotel room  and that they will have to buy  mat and pillow and they gave me a name 'Mat president'. They knew I will not steal to get money and they concluded that I will not allow them to 'chop' (embezzle public fund). Some people even campaigned against me, saying the masses should not vote for me because I was too tough and I will not allow them to embezzle and that is the reason that I quit the presidential race. But I am happy that I always stand for the truth. I am very happy that Buhari's government is going to revisit the case of Chief Bola Ige  who was murdered in 2001. A number of people were arrested then and brought to Agodi Prisons here in Ibadan where I had  established a school of evangelism. All of them, with the exception of Omisore, were students of  the school. The monitor of the class then (Fryo) and Omisore's  driver got certificates  from the school of evangelism.
You suffered intense opposition when you were NBC General Secretary…
Oh, the opposition was too much for 12 years. I was almost accused of being a murderer. I was accused of killing a fellow reverend whom I arranged to go to America to do  doctorate degree; but the man liked sex too much and he refused to listen to warning. Shortly after he arrived from America, he began to have amorous affair with his landlord's wife. The landlord went to Molete Baptist Church  to complain about  his  affair with his wife and asked the church to warn him to leave his wife but  the reverend  did not listen. The day he was caught was a Monday. I had travelled to Lagos.  The reverend  sent all his children on errand—asked one to give a letter to me and encouraged his wife to go and study in a school and he had sex with the landlord's wife. The landlord knew that would happen and had set  what we call magun 'don't climb' on the wife. As soon as he finished, he dressed and walked down to the stream and the kind of 'don't climb' that the husband of the woman used on his wife was the type which one should not cross the stream. As soon as  the reverend crossed the stream, he fell down at the other side and died.
How could you have killed him?
Before  he left for the United States, he was  a top official of the Baptist Convention. He had misappropriated some money and I kept on pressing  him to refund the money and his family thought it was  because of my constant problem that caused him to have heart attack.
Even a  medical doctor supported the claim that  the reverend  died of heart attack and that I must have been responsible for the death because of the way I was writing to him to refund the money.
It was later that a senior member of the Baptist Church came out in the open and said they should leave me alone as the reverend died of 'don't climb'. As soon as that news spread, the reverend's  wife, who was teaching in Ibadan  became so ashamed that she ran to Saki but she is now back in Ibadan. That was the second person they accused me of killing.
The first person was the man that I succeeded, Dr. Ajayi Dahunsi. Two of us were in the same level
educationally, we both had Ph.D  in New Testament. (I got B.A. In English from America, I got Ph.D in Theology in America, Masters from New York and Ph.D. in 1973 December).
Dr. Dahunsi was killed in a motor accident and the wife accused me that I killed him so that I could succeed him. I was pastor at Orita-Mefa Baptist Church and had no interest in becoming the General Secretary but you know this God is  wonderful. Twelve years after I retired as Baptist Convention General Secretary, I met Dr. Dahunsi's niece at University of Ife bookshop and she knelt down begging me to  forgive their family. She said their family from Eruwa and those related to Mrs. Dahunsi accused me of killing Dr. Dahunsi. She then confessed that it was found out that Dr. Dahunsi was killed through diabolic means by one of those who were close to him. Most of the people who accused me then, saying I will die soon if truly I killed Dr. Dahunsi are no longer alive. That is why people say I am powerful but I did not know the power they are talking about. I usually advise people not to bring problem to me because eventually they will carry their load.
Is it that you are powerful?
I do not have any power but I believe that if you get in my way or tell lies against me, eventually, you will suffer for it.  That is why I don't talk much or curse people because I know my God will fight for me. And that is one of the reasons I do not have friends because we have few people who have reached 90 years. When I read obituaries of young people in newspapers, I feel bad and wonder what they have done to die like that. Some have offended those they should not have offended.
How does Nigeria of today make you feel?
Nigeria of today is no longer what it was before independence.
Before independence people were afraid to tell lies, to steal money. Ientered the gospel ministry in 1952 at the age of 26 and was taught by Americans. Whenever we went for Christian meetings, the lessons of morality they taught us did not leave us. We were very careful with promiscuity. You will not impregnate your girlfriend ahead of marriage. If you are a teacher and you impregnated your girlfriend, you will lose your job. Or as a teacher you get married and your wife gave birth six months after your marriage, you will lose your job. You hardly heard of bankers stealing money; assassination, murder were not common. Armed robbery was not common. One will think twice before joining a group of armed robbers. Then people had mercy, they were kind towards one another but today that milk of kindness is gone. The Nigeria of today, you cannot tell the truth and be respected. That is why I do not accept too many invitation to preach.
Where did we get it wrong as a nation?
I think there is an answer to that! When they began to organize political parties and using money to vie for positions and canvass for vote, stealing government money to give people who will vote for them. I had that  experience in 1992, when I contested for presidency in Oyo State. We were three that contested in an election here in Oyo to determine who will be the flag-bearer to represent the state at the presidential primary. The two other persons are dead. It was Option A4 where you had to line up behind your candidate. Most people lined behind me not caring if I was a Baptist or not, Methodists, Anglicans, Muslims and traditional worshippers. When they announced that I was the winner, they lifted  me up. I held to my lower pocket because I had N250 there. The man who was contesting presidency have just N250. I held to it so that they will not steal it.
After that it was money galore, and that is why my supporters asked me to  secure hotel for them in Port Harcourt and pay for their meals. Politics has spoilt things; look at what ex-NSA Dasuki is being accused of. When I was contesting election, I met Dasuki's father who was the then Sultan of Sokoto in Lagos and he said that I should give him an undertaking that if I won the election I would be good to the North but I was unable to contest the election.
What is the way out?
I must confess, I do not see the way out because these small girls and boys that we hope will be the future leaders tell lies; some of them are witches. It seems to me that each family should take responsibility of how to train its children to be honest. When my five children were growing up, I did not spare the rod. I made sure they went to church, listen to sermons and would I ask them what they learnt in church  made sure that I closely monitored  them during their first year in America in 1979. Myself and my wife would visit them  to ensure that they imbibed the moral lessons we gave them. And that helped them greatly.
'MAGUN': Pastor dead 'after extra-marital sex' on Vanguard News.