SIMON EBEGBULEM,
BENIN CITY
Chief Charles Idahosa is a leader of the All Progressives Congress (APC) in Edo State and Political Adviser to Governor Adams Oshiomhole. In this interview, he says the leadership of the Peoples Democratic Party (PDP) knows the Pastor Osagie Ize-Iyamu's governorship bid  will not  fly.
Excerpts: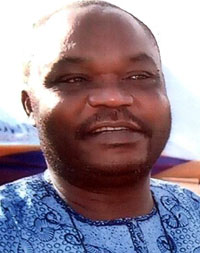 How has your campaign been and, from what you've seen so far, how positive are you of victory?
Talking about victory, I'm 100 percent sure of victory. Our campaign is  on course, we are  doing very well. Government Adams Oshiomole, like I said earlier, is leading the campaign of Godwin Obaseki and I asked who is leading that of Ize Iyamu's campaign. It's so clear now that the person he worked for, the person whom he told the world he gathered his experience from, is nowhere to be found. That speaks volumes.  I am from Uhumwonde Local Government, you are interviewing me now in my local government.
Few days ago, the Ize Iyamu  campaign team was  here. I was shocked because they were less than a hundred and fifty. I think their campaign is non-existent but you know, there is a little difference between ambition and obsession. What is happening to Ize-Iyamu is obsession for the office of governor. He knows he is not doing well on the field, but if you see him and his people  they always boast. Ize-Iyamu's campaign has been very pathetic because, considering what they did to this state during the Igbinedion era,  they think that people can be stupid to allow the PDP to  return? That is not possible. We  are sure of victory.
There is this fear that internal bickering may force some of your members to do anti-party?
The answer is no. Those  of us who are known and  are partisan politicians, who attend meetings, are not up to about 5 percent of the population. The remaining 95 percent  who are the voters, they don't know if we are quarrelling or if we are not. When it's time for election, they go on their own because they are seeing what the APC government, led by Adams Oshiomhole, has done.
Are you impressed with the campaign of your candidate so far?
Yes, Obaseki has learnt very fast because I keep monitoring what is going on. The first time he spoke in public, you know what they the people were saying. 'The person you people brought, he cannot talk'. I was just laughing. You think it's easy to spend thirty years in the  private sector and suddenly start addressing mammoth crowd. I said he will get used to it  and  I'm just seeing him dancing  different dance styles. He's gotten used to it, I was watching yesterday, he can deliver. He has gotten used to it because he is a very brilliant young man. I have known the young man right from school. I was a couple of years ahead of him, so I know him very well. We grew up in the same area and he has been very consistent.
For his age, he is  mature. He is firmly on ground. He has  full grasp of what is happening. He's a complete technocrat, he knows what he wants to do. I was reading a newspaper and somebody was criticizing him with his political talk that he said he would create 200,000 jobs in 4 years. He said  politicians  run their mouths and that Oshiomhole could not create 100 jobs. So I called  that person's  number, but he didn't pick  the phone; so I sent him a text. I told him: 'If you call yourself a columnist, you must do your research. He (Obaseki) didn't say he was going to recruit 200,000 people  in  the civil service, he said he was going to create employment in the  agric sector with investors that would come' and, in four years, I believe in him, he will do very well.
The PDP sounds very optimistic of victory. What do you think they are banking on?
They are not banking on anything, they have always been like that. I came from the PDP. It is  difficult  to forget your old habit; they will tell us: 'Don't come here complaining, go and win the election anyhow you like and leave the rest to us'. They are just talking trash, it is the last kick of a dying horse that you are seeing now. They will talk big on election day, you will see it when we finish with them. You know what is confusing them  is the last National Assembly elections.
I keep explaining what happened  to  different people. The  National Assembly elections, a lot of people are not able to look at it, break it down and analyze. They were a lot of sentiments. In  my village, there are over 40 Pentecostal churches. In the night, I don't sleep because of their speakers outside. You recall that PDP gave them so much money. The churches moved under the claim that if Buhari won, he  will Islamize Nigeria. So if you look at the National Assembly elections result  in Edo State, Edo North is predominantly Muslim, they voted pro-Muslim, we won the entire National Assembly seats  in that area including the presidential election.
Edo Central  is predominantly Christians. Jonathan cleared it. Edo South is predominantly Christians, PDP won too. So nobody did it, and what they are mistaking, a week later, Edo people told them: 'We know who is our man, we voted against Buhari because we are scared of Muslim; that's why we voted for Jonathan. This House of Assembly election is local, we will vote APC'. And  they gave APC 21 House of Assembly members out of  24. That was a   week after they cleared everywhere.
The only House of Reps the PDP could not win in Edo South was Orhiomwon/Uhumwonde and that was because we were lucky; the election did not hold and, by the time they did it again, Jonathan had lost. So this is the simple pattern, but if you see them now, because of their tendencies, they start by lying. So a lot of our people are being underrated. All you need to do is to go round town. When I was coming to the village, my driver told me, 'Let's not take Ikpoba Hill, we should take Upper Mission Road'. When I saw what Oshiomhole built in Upper Mission Road, I was shocked because I had not been there for a long time. It was like  Airport Road. So are you telling me the person in Upper Mission will vote PDP?  They have no chance in this election; if they are boasting, let them boast.
Obaseki is the next governor  of  Edo, I don't know what you mean by an edge. They will lose more votes now than in 2012, just go and mark it.
Edo APC is sure of victory — Charles Idahosa on Vanguard News.