By Yinka Ajayi
Following the controversy generated by the appointment of Abu Musab Al-Barnawi as  new Boko Haram leader by the Islamic State of Iraq and Syria ISIS, a renown security expert and CEO, Halogen Security, Mr.Wale Olaoye, in this interview, says the Federal Government should commission a war-room to curb insurgency. He also speaks on the latest video on Chibok girls released by the Islamist group Excerpts: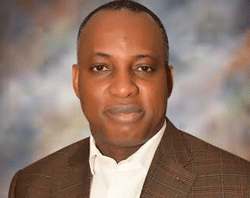 What is the implication of Boko Haram's new leader appointed by ISIS as it concerns Nigeria's security?
If it is true, then there are more fundamental issues beyond what the military had achieved in their fight against Boko Haram. If you put that together with what is going on vie Niger-Delta Avengers, this would signal a more serious problem than what we have done politically in managing insurgency.
Do we take it that Boko Haram has not been decimated as claimed by the military?
The military has reclaimed lots of ground from the insurgents. The mode and method of their attacks have reduced significantly. The government has reclaimed 99% of the ground hitherto occupied by Boko Haram back . As a result off that success, there is need to look at the depth of the success that has been achieved so far. Now is the time to look more inwards.
Does it mean that this new appointment of an ISIS leader constitute no further threat to the country?
If someone is still claiming relevant, how deep is that claim.  Lets see if they can reclaim the areas the government had taken back from them or if the mode of attacks would change. A simple claim that one is a ring leader is of no importance. Lets see what that would amount to in Nigeria. Will their mode of attack change to prove that they have re-branded? As long as they only mention a name of a new leader is still relative.
What is the way forward?
This is a tough time for our government in two perspectives: First, the government is faced with economic degradation and the survival of Nigeria as a nation. Second is that the government is confronted with Niger-Delta Avengers attacking military checkpoints, carting away rifles and killing soldiers . This means the government is battling from many fronts. Therefore, it is high time the government develops a strategic approach to manage the country's security, because, with this development, there could be massive distraction. The approach must cut across public and private participants. A scientific war-room needs to be in place at various levels.
Is the clamour for State Police the way out?
I have a more fundamental angle to state policing .When you answer the question of internally generated revenue by each state, naturally state policing would be addressed. It also means that state police could then be meaningful.
As at now, I don't think the Federal Government spends  up to 10% of what Lagos State on its own spends on security through the same Nigerian Police. But where does the control lie? It lies at the table of the Inspector General of Police (IG). Does that make sense?
What strategy do you recommend to the Buhari Administration?
The hierarchy of human needs earlier in Africa, was food, shelter and then security.  In my  opinion, that hierarchy categorization has changed. Security now comes first. Then food and shelter. We are speaking about the security of our country today, in the face of dwindling national and gloomy  economy. It is obvious to see how much we have lost on security alone. even in a down time in our dear country alone. We have lost over 45% of our resources, due to insecurity alone. We are in an already collapsed economy. There is need to change strategy in confronting what is confronting us as a nation. There is need to declare a state of war in managing the economy and insecurity in the land. It must include those who are charged with doing the job for us and those patriotic Nigerians in diaspora.
How do you react to the Boko Haram new video on the Chibok girls?
The new video notwithstanding, the military has made efforts to degrade the terrorist group.  The effort of our soldiers in Sambisa Forest has been commendable. Reports indicate that they have liberated over 14 local governments from the sect in Yobe and Borno States. As we speak, there no local government under Boko Haram control. To me, that is progress. It is even clear that attacks by the sect have reduced than what happened in the past.
Can we now say Boko Haram has been checked?
In relative terms, the efforts by our forces have been successful. However, so long as insurgency has not been curtailed in its totality and the girls have not been liberated,  more need to be done in terms of intelligence gathering.  Is there intelligent foot trail of the girls that escaped? Also, assuming the girls are kept in one location, a strategy could also be used to track and trace where the sect  kept the over 200 girls. Secondly, the initial video that was sent can provide an opportunity for necessary intelligence. And the video we saw, last weekend, reveals that  a lot more need to be done on intelligence gathering, particularly as regards the location of the sect. On the other hand,what efforts has the government made to quarantine the insurgency? There should be two different objectives: The commitment to locate and save the girls should be separated from prosecuting the war against the sect. The two should be treated with equal zeal and commitment. In other words, there should be clarity of set objectives.
How do you react to the claim by Boko Haram to attack cities like Abuja, Lagos and others by the sect?
This is not the first time that groups like Boko Haram threaten fire and brimstone against cities, particularly the seat of the Federal Government. It only shows that a lot need to be done on intelligence gathering as well as seeking to degrade the insurgency. Security agencies understand the weight of such threat to the peace of our dear nation. I am confident that such threat would not see the light of day. In the past, worst  rebel groups give dates, time and location where they would launch their attacks, but in most cases, such threat do not see the light of the day.  The national security is not managed on reactive measures. Security is all about being proactive and understanding the mitigating plans that would solve the problem.
Considering the economic downturn, how can the nation create a scientific war room to curtail insurgency?
We are aware that the military are working hard with help from other nations. We ought to have what we can refer to as an 'Economic War-Room', the one that would involve an economic team of the government. The economic team would require a wider strategy from a broader base with more diverse experience. Under  this situation, economic advisers would focus on  industry, government, political and national boundaries. People who have the knowledge, capacity to put together an economic war-room that would work on a continuous basis for  three to four months.
Meanwhile, the military is doing a lot, but they must increase their efforts by creating a war-room that brings the military together and those that are not hardcore military in order to take action against insurgency, to manage and create an enduring national peace, unity and progress.
A war-room, properly established would create a peaceful Nigeria that will transcend the military effort. It will cut across private, economic, security, political and tribal divides. It should focus over the next six months in a more scientific war-room situation. These gurus in the war-room must consistently be  brainstorming, unraveling information in a manner that would truly address every form of insurgency that may want to disturb our national peace. Be it Boko Haram or the Niger Delta Avengers. A war room situation would involve continuous work, churning out scenarios, providing authoritative solutions and advising leadership on a consistent basis.
Boko Haram video can provide clue to Chibok girls' location — Olaoye, security expert on Vanguard News.