By Jacob Ajom
Brazil's football great, Edson Arantes do Nascimento, aka Pele says he hopes to appear at the closing ceremony of the Rio Olympics after missing the opening because of poor health.  He updated his condition Tuesday on Twitter, saying he is "focused on joining you for the closing festivities."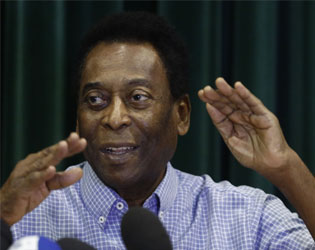 The legend wrote on his Twitter handle:  I want to thank everyone for the well wishes from around the world, regarding the  #olympics  #openingceremony
"I am continuing my physiotherapy and focused on joining you for the closing festivities on August 21. I love you!  #olympics."
Pele was the preferred choice of organizers to light the cauldron. But he first cited sponsorship commitments and later health concerns for keeping him away. The 75-year-old Pele had hip surgery recently; he uses a cane to help him walk. The Olympic cauldron was lit by Brazilian marathon runner Vanderlei de Lima.
Last month, Pele held the Olympic flame in Santos, a city near Sao Paulo, where he started his career. He never played in the Olympics.
Pele hopes to make closing ceremony for Rio Games on Vanguard News.