By Chioma Gabriel, Special Features Editor
A woman visiting her daughter for omugwo from the South East Nigeria had her first baptism of fire the first night she slept in her daughter's home when during the midnight hour, she overheard somebody in the next apartment shouting die, die, die.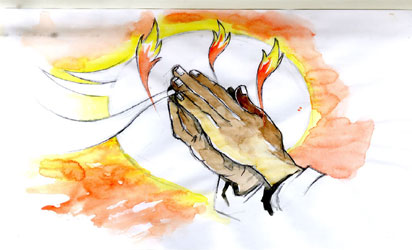 She listened briefly to be sure of what she was hearing and the shout of  die, die, die  continued and it was too close. Just the next flat. She checked her time and it was 12:30am and she began to panic, thinking somebody was being strangled to death nearby. She rushed out of the guest room to the room her daughter shared with her husband and knocked frantically at the door.
When they opened, she almost jumped on them in fear. "I think somebody is being killed in this compound. It must be armed robbers", she lamented but her daughter calmed her down.
"They are praying, Mama", she explained. But her mother was disturbed. What kind of person would be praying for others to die, she wondered. She listened again and the prayer was still on. She shook herself in disbelief as her daughter walked her back to the guest room. Throughout the night even till about 3am, the shout continued. The woman soon realised that it was going to be an everyday ordeal. Her daughter carefully explained to her that pentecostal churches pray like that and that nobody was being killed.
'He who comes to equity must come with clean hands'
Charles, an engineer in a communication company narrated how he made a call to a female friend and obviously the person he called was supposedly praying in the church. "What I was hearing at the background was Die, die, die. Any person who is against me shall die, any person who is against my progress shall die. God let my enemy die and the person told me she was in church.
A male voice would say it (apparently the pastor) and she would repeat it. A day later, I got this woman on phone and I told her what I heard her say in prayer and that God does not answer such prayers. I told her that it was better to pray to God to touch her enemy and change him or her so that the world will become a better place. She became angry, telling me not to question her over her religious beliefs. I have always known this woman to be dating married men. I simply said to her: "What if all married women pray that God should kill all women who sleep with their husbands? The call went off and the conversation ended there.
A woman who is having an affair with a married man and at the same time wearing the toga of a pentecostal Christian of a church where she was shouting die, die ,die! Tell me, what manner of prayer is that, especially when it was coming from a woman like that who goes after married men? Even if she has enemies, shouldn't she be praying for their repentance? Who does she want to be dead?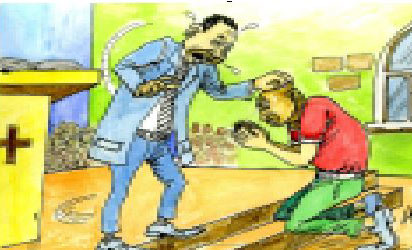 "I may not know the Bible like they do but I know the Bible said: Be not deceived; God is not mocked: for whatsoever a man soweth, that shall he also reap. For he that soweth to his flesh shall of the flesh reap corruption; but he that soweth to the Spirit shall of the Spirit reap life everlasting. Galatians 6:7-9
"He who comes to equity must come with clean hands. Is she binding herself or someone else? Because if you ask me, she is a cheat of a Christian." Have you ever prayed for someone's complete ruin? That God would destroy them and wipe them off the face of the earth? It doesn't seem very Christian, does it?
'Kill them' brand of prayer
Nevertheless, these kinds of prayers are first recorded in the Bible especially in the Book of Psalms. Prayers that call for the death and destruction of others are called imprecatory prayers. You may not have given much thought to this kind of prayer before. Or have you? Those who read the Bible seriously can't ignore the passionate plea for the violent destruction of enemies. Check out a few of them for yourself in the following Psalms:  5, 10, 17, 35, 58, 59, 69, 70, 79, 83, 109, 129, 137, 139, 140.
When asked why his church prays the 'die' prayer all the time, a pastor of Mountain of Fire and Miracles Ministries, MFM, said people from outside the ministry misconstrue the concept of MFM prayers and therefore cannot judge the church.
"Nobody prays for anybody to die. In life, people  do not wrestle against flesh and blood, but against principalities, against powers, against the rulers of the darkness of this age, against spiritual  hosts  of wickedness in the heavenly  places.  When a sick man comes to church to pray for healing, it is the contrary powers that inflicted the sickness that was being addressed.
"People face all kinds of challenges in their everyday life and those challenges weigh them down. They come to church to pray for such forces to releases them. The concept of death in these prayers is spiritual because it is the spiritual that controls the physical.
"But unfortunately, people who copy prayer styles don't understand and they inject other meanings to it. That is their problem, not MFM's problems because many people who don't understand the prayer points of MFM pray them without understanding. Nonetheless, we pray violent prayers because these are the end times and strange things are happening in the world everyday. The Bible tells me that  from the days of John the Baptist until now, the kingdom of heaven suffereth violence, and the violent take it by force.  That is just the truth."
'My sister prays die, die every night for hours on end'
Chinonye, a broadcaster said she actually wanted to start worshipping in one of the branches of the church but was shocked by the reception she got from the branch she went to.
"I had just finished my NYSC in Calabar and came to Lagos to live with my sister. We were Catholic but inclined towards Pentecostalism. My sister told me that since I'd finished NYSC, I needed to undergo deliverance before embarking on the search for work. She also decided to join me in the deliverance programme and so, early on a Monday morning, we set out to the nearest branch of the church.
My sister and I are both very fair and needed spiritual intervention because her marriage was not going well. I just came back with long braids, fixed nails recently done and we headed to the church. We were barely at the entrance when some 'holy' people rushed at us with jars of anointing oil and shouts of 'Holy Ghost Fire, Holy Ghost Fire.' They almost blinded us with the oil as they shouted 'marine spirit.
Die, die, die.' We were overwhelmed and flabbergasted. Then my sister asked them whether it is the way they welcome new people to the church. We didn't understand when we became marine spirit. They asked us to pull everything, including jewelry, and almost barbed my hair.
"I have no qualms if that is their way of doing things but at least, they should allow a new member to sit down before explaining their doctrine and definitely, not the way they did. They were too aggressive. Somebody who had no knowledge of God will never go to any church after that experience. Well, I left the church and didn't go back. I joined Redeemed Christian Church of God and I have no regrets.
It is indeed a loving church because they accepted and welcomed me with love and made me feel at home before taking me through the doctrine of the church. My sister is still in the  die,die,die  church and because of her fair fine looks, they have not accepted her completely. My sister is one of them but they still complain about her but she will always tell them when they complain that God is sees her heart.
"There are some good ones who encouraged my sister to keep on when she becomes completely overwhelmed. She told me there are many bad people inside the church even when the Founder is a good man. And she also prays the 'die' prayer. You won't believe it, midnight hours are her prayer times. It's like she prays  die, die, die every night for hours on end.
"The  die  prayers work from what I can see in my sister's life. We dread her because she's very spiritual and prayerful. Now, she sees visions and knows the thoughts of people and she said she is not praying for anybody to die but for her problems to cease."  A leader of the female evangelism team of a Pentecostal church said her church also prays the die prayer. Evangelist Tinuke said she faces her 'enemies' squarely because the holy book says  'Thou shalt not suffer a witch to live.'
'The soul that sinneth shall die'
"I was married for fifteen years without any child. My husband and I separated many times and reconciled. He is the only son and you can imagine the predicament of not having any child. It was as if their generation  was ending with him. That was when I went Pentecostal. The first deliverance service I attended did it all. The doctors had said nothing was wrong with my husband and I.
"So, that night in the church, I prayed with everything in me. I poured out my heart before God. I prayed the  die  prayer in a special way because I got a seat and sat the enemy on it. I used clubs and anything I could lay my hands on in the fight. I didn't know whether anybody was responsible for my predicament or not. I was just praying and fighting whoever or whatever.
"When I got home in the morning, my husband and I got a call from the village that his mother's sister was seriously sick and confessing unto death. She equally confessed she was responsible for my woes because since I got married to my husband, I was never paying her attention, that I didn't greet her on my wedding day despite all her contributions to the success of the wedding, that I was proud. She died after her confession. Did I kill her? The soul that sinneth shall die. I was praying for God to take away my problems and if somebody somewhere is responsible for it, too bad for him or her."
'The best form of defence is attack'
Reminded that such prayers contradict the teaching that said 'Love your enemies', Evangelist Tinuke shook her head and said the best form of defence is attack.
"If I pray for my enemies, I would be pouring hot coals of fire on them. So, its the same thing. My prayer against the enemy worked. My enemy died even though I didn't know she was an enemy and today, I have three children. Anybody who has to die for me to make progress should die. Isaiah said 'In the year that king Uzziah died, I saw also the  Lord  sitting upon a throne, high and lifted up, and his train filled the temple.'
"Dear journalist, Isaiah said King Uzziah had to die for him to see the glory of God and that is my prayer. If anybody has to die for me to see the glory of God, let him die. The enemy will not destroy my life and later repent. He will die before he destroys me and so, the die, die  prayer has to stay."
One of the biggest problems Christians have with such prayers is that Jesus' words seem to contradict the idea of praying for the destruction of your enemy, like in the following:
You have heard that it was said, 'You shall love your neighbor and hate your enemy. But I say to you, Love your enemies and pray for those who persecute you, so that you may be sons of your Father who is in heaven. For he makes his sun rise on the evil and on the good, and sends rain on the just and on the unjust. Mat 5:43-45
But Pastor Ayodele of the  CAC  who claimed the  die, die  prayer originated from it said:
"I don't believe that either of these solutions work well. Neither Jesus nor any of the other New Testament writers specifically corrected the prayers that asked for the punishment of the enemy. In fact there are some New Testament texts that also seem to be like that. For instance, in the Book of Revelation, those martyred cry out to God: "They cried out with a loud voice, "O Sovereign Lord, holy and true, how long before you will judge and avenge our blood on those who dwell on the earth?" (Rev 6:10)
"No prayer is about personal revenge. When a man's soul is troubled and he cries out to God and He shows mercy on him, He could kill for the person. Yes, Jesus said we should love our enemy and pray for those who persecute us but He made it clear that when we pray for our enemies, we pour hot coals of fire upon them.
"Churches like MFM that pray the  die  prayer in English and interpret in Yoruba spring from CAC. Daniel Olukoya was a choir boy in CAC. He is well read and understands the issue of prayer and demons very well. But you cannot vouch for everybody in the church. There are all comers amongst the pastoral hierarchy just like Jesus had Judas who betrayed him. You cannot use the bad behaviour of few bad eggs who claim they attend a particular church to judge the rest of the people inside the church. No.
"But no matter what you say, prayers are for different purposes. They may be calls to God for healing, guidance, or even a bit of rain to drench a drought-ridden field. Some prayers of petition are meant to kill."
'God may respond by choosing to kill someone'
Pastor Goodluck of Gloryland Assembly said God can answer prayers by killing someone.
"An acquaintance who suffered abuse from an alcoholic father once said that, as a child, he prayed for God to kill his dad. And in some religious narratives about prayer, specifically those found among certain kinds of evangelicals who practise spiritual warfare, God may respond by choosing to kill someone, regardless of whether the human who made the prayer wished such an outcome.
"I first became acquainted with spiritual warfare several years ago, when a student came into my office, sat down, and told me that he was very tired from being out late the previous night. He told me that he had been out all night on a "prayer walk". He was part of a small group of evangelical students who had walked the campus and town, using prayer to discover "demonic strongholds", and then praying and reading Bible verses at those spots in an attempt to banish the pesky resident demons.
"One tale that the student shared from the spiritual warfare conference described how a "witch" died when they prayed persistently. So, spiritual warfare marks boundaries, divides pure from impure, distinguishes orthodox from heretical, and separates godly from satanic. And, sometimes, within this religious imaginary, prayers can kill.
"The truth is, answered prayer may have many more consequences than you have ever thought about before. You may not even pray for anybody to die but in the process of answering someone's prayer, God can kill.
"Consider this, everything we do has consequences. Every decision we make influences our own future and the future of those whom our lives touch. The same holds true with answered prayer. If God answers a prayer and makes something happen that normally wasn't going to happen, everything else is going to change after that answered prayer. People will live and die that would have died or lived in a different way.
You can't change something without changing everything. That is, unless we can imagine God keeping track of all the answered prayers and continually manipulating happenings so that the answered prayer really doesn't affect anything else. This would make answered prayer infinitely more difficult than just, for instance, healing someone who was supposed to die. That person who should have died now takes up space that he shouldn't be in. He will affect other people's lives just because he is in that space. Everything is different, infinitely."
'The die, die prayer has become part and parcel of the Pentecostal movement in Nigeria'
The book "Prayer is Good Medicine" by Larry Dossey, tells a story about a man who was injured in an automobile accident. According to him, "Stephen was involved in a near fatal auto accident and sustained serious injuries. We immediately marshaled several prayer chains in our church and the other churches as well. His surgeons were astonished that he survived the operations to save his life, calling his response a miracle. As the man's recuperation continued, so did our prayers.
But, although he had been a successful businessman and ideal father and community leader, things were not the same. He seemed to have lost his vitality and zest for life. He was apathetic, as if he didn't care. He was argumentative, grouchy, and hard to tolerate. This was a complete change from his previous jovial self. He was indifferent to his wife and children. Nothing seemed right.
Ten years later, he died of natural causes. Several days after Stephen's death, I was startled in my meditation by his presence. He stood in front of me laughing his previous happy demeanor and said, "I finally won out over all of you." And then he was gone. As I pondered this, I could come to only one conclusion, Stephen hadn't wanted to live or perhaps hadn't been meant to live. But the power of all those prayers for his recovery had bought him back.
"In the Pentecostal churches where they pray die prayer, I know for sure that those who understand the true doctrines may not specifically be asking anybody to die. Nevertheless, the  die, die  prayer has become part and parcel of the Pentecostal movement in Nigeria. In His bid to answer prayers, God can kill and that is a fact."
'My sister prays die, die every night for hours on end' on Vanguard News.