Ryan Lochte apologized on social media yesterday, saying  he was sorry for not being "more careful and  candid" in how he described events Sunday, which led to a Brazilian investigation into what police  say was a fabricated story  of a robbery.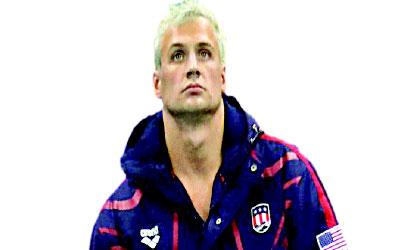 In a Tweet, the Olympic gold medalist did not go into details about what happened early Sunday morning at a Rio gas station. But he said he and three fellow swimmers faced a "traumatic" situation that  involved a language barrier and a stranger pointing a gun at them.
He  accepted responsibility for his role in "taking the focus away from the many athletes fulfilling their dreams of participating in the Olympics."
"I should have been much more responsible in how I handled myself and for that am sorry to my teammates, my fans, my fellow competitors, my sponsors, and the hosts of this great event," he wrote. "I am very proud to represent my country in Olympic competition and this was a situation that could and should have been avoided."
Lochte and three U.S. swimmers said they were robbed at gunpoint early Sunday, with Lochte saying their cab was pulled over by men impersonating police officers. Lochte said one of the men even pointed a gun to his forehead and robbed the men of their cash.
But Rio police said the story was fabricated. During a news  conference Thursday,  Fernando Veloso, chief of Rio's civil police, said the men were drunk and smashed up a gas station bathroom before being confronted by security guards. Veloso said guards flashed a gun to prevent the men from leaving the scene, which ended with the swimmers giving about $55 to pay for the damage.
Lochte left the country earlier in the week, but his teammates  Gunnar Bentz,  Jack Conger and Jimmy Feigen were ordered to stay in the country to answer questions on possible charges of filing a false police report. Bentz and Conger answered   questions for several hours at a Rio police station Thursday before flying out. Feigen is still resolving his charges before returning to the U.S.
Lochte brings shame upon Americans, apologies over fake robbery attack on Vanguard News.