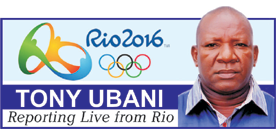 Sweden's Sofia Magdalena Mattson (yellow) wrestles Nigeria's Odunayo Adekuoroye  in the women's 53kg freestyle final match on August 18 in Rio President and Technical Director of Wrestling, Dr Daniel Igali was left devastated on Thursday night after all his female wrestlers failed to get among the medals in the Wrestling event of the Olympics Games here in Rio.
''We're all gutted",    Igali managed to say after the heartbreaking    loss of the wrestlers.
Following the huge expectation from many  on the Wrestlers after the other athletes failed to hit target to make a podium appearance for Team Nigeria, it became an embarrassing of sorts when Blessing Oborududu and Odunayo Adekuoroye on whom many placed their hopes were snuffed out in dramatic circumstances.
''I'd have placed N1m bet on these girls winning medals",    Igali said.
Oborududu lost on technical points to Mongolia's Soronzonbold    Battsetseg after tying 1-1 on the result sheet. That was heart-wrenching.    But Adekuoroye, who was known for her after majestic celebratory dance step, was completely annihilated 8-0    by Sweden's Mattsson Sofia Magdalena.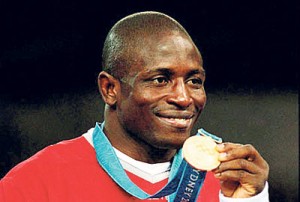 And these losses made Igali, a gold medal winner  at the Sydney Olympics, to nearly go into depression as he was at his lowest ebb since this reporter first came in contact with him many years ago
''How I wish I could get 'ogogoro' (local gin) to drink to steady myself, he said at the Games Village, after the defeat.
"How I wish they allowed alcohol into the Village, even though, I don't drink. It is difficult to understand. I feel so sad and sorry for these wrestlers because they have put in a lot of hard work, only to get these poor results. It is indeed sad because these wrestlers, have sacrificed a lot and do not deserve these defeats",  a despondent Igali said.
Turning around to himself, he said; ''look at me. I am an absentee Lawmaker. Out of 87 Sittings in the House, I was only present for 13 times.  Imagine that! All because of this national work", a crestfallen Igali, a member of the Bayelsa State House of Assembly said. He looked dispirited.
Demonstrating some flaws he observed from his wrestlers, Igali pointed out that some of the wrestlers his girls fell to had been beaten in earlier competitions by his wards.
"That is the annoying aspect of the night. Most of those girls, who inflicted these defeats on us, had been beaten previously by our wrestlers."
With five female wrestlers down,    the two remaining male wrestlers would take the mat tomorrow, the day of the closing ceremony. They are Amas Daniel and Soso Tamara.
Igali: I'm gutted by my wrestlers' performances on Vanguard News.