By Ishola Balogun
It was a sunny summer weekend. People from all parts of the globe trooped in the picturesque Hampshire countryside, London. It was not a carnival, but a religious gathering for spiritual development. Over 35,000 Ahmadi Muslims with their non-Ahmadi friends had gathered there for their Golden Jubilee religious convention.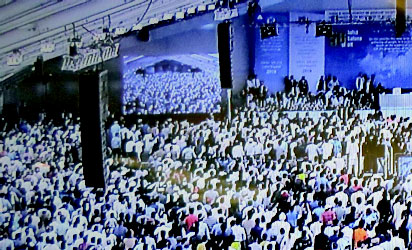 The Hadeeqatul Mahdi, venue of the convention was a beehive of activities.  Row of tents and marques were pitched in a spacious field, where different activities such as registration, exhibition, Book stall, dispensary, Tabligh, among others relating to the Jalsa Salana were handled by officials.
At every minute of the day and at every point, in the large expanse of land, participants who could not have access to the main marque followed proceedings from strategically placed micro-public address systems.
To ensure that everybody was carried along, headsets which translates into 16 different languages were also distributed free of charge to participants. You only need to switch to the language of your choice.
Besides, over more than 3,000 volunteers were scattered all over the places attending to one issue or the other ensuring that participants have a hitch free convention, while about 2,000 others were strategically positioned at designated hotels, hostels, where guests were lodged basically to provide services such as meals, laundry, including transportation tro and fro Jalsa ground.
Amazingly, these volunteers most of who are professionals, scholars in different fields discharge these pay-less duties with fevour and enthusiasms, in fact, compete to do more than the other. These professionals serve in the kitchen, dispensaries, administration, places of conveniences, among other areas of need of all participants.
Nadeem Ahmad, a 60-year-old Physician, told Vanguard that he has been a volunteer in his area of specialisation for the past 22 years.  "I've been doing this since 1994, I am always happy serving people, not only because of the principle of my profession as a doctor, but also on the teachings of Ahmadiyya to serve humanity in whatever capacity." Ahmad said.
The Jamaat's leader, His Holiness Hazrat Mirza Masroor Ahmad, addressed the three-day convention, which also had Christian, Jewish and UK members of parliament, traditional leaders, top ranking politicians across African countries such as Uganda, Ghana, Serria-Leone, Gambia among others speaking at the event.
Ahmadis believe that attending Jalsa is not only a religious duty upon all Ahmadi Muslims but also a spiritually rewarding event. Ahmad, 81-year-old Briton who was at the Jalsa told Vanguard that he has been attending the event in the last couple of decades, adding that he Huzoor's speech is always inspiring and spiritually elevating.
Earlier the Jamaat leader raised a union flag, the Ahmadiyya flag and other 208 countries that were represented at the Jalsa. One of the officials said the action formed a human chain to re-affirm their rejection of violence and extremism and reiterate their slogan: 'Love for all, hatred for none.'
UK convention re-echoes 'Love for all, Hatred for none' on Vanguard News.