•Benin elders, palace chiefs endorse him
BY SIMON EBEGBULEM, BENIN CITY
Since campaigns for the 2016 governorship election kicked off in Edo state, people have been asking, what is the 'Oracle' saying? What is he predicting this time? What is the way forward after Governor Adams Oshiomhole? The Esogban of Benin Kingdom and the Odionwere of the Kingdom, Chief David Edebiri is the oracle of the Kingdom. Leading his socio-cultural group, the Etuedoseghe made up of farmers, powerful Palace Chiefs, artisans, the Esogban last Sunday finally endorsed the candidate of the All Progressives Congress (APC), Mr Godwin Obaseki ahead the September 10 governorship election in the state.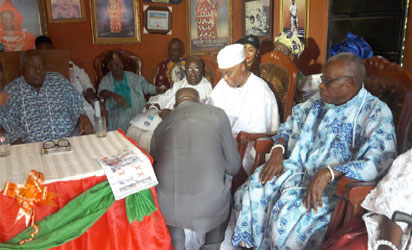 It was a week in which the APC candidate exhibited good oratorical prowess as he took his campaigns to the Civil society groups, the NBA, women and youths. Remarkably, the Etuedoseghe, it would be recalled endorsed Oshiomhole in 2007 despite the pressure from the PDP then.
The Esogban whose part duty in Benin Kingdom is partly to control the activities of witches and wizards, by ensuring they don't cause havoc in Benin Kingdom, also predicted Oshiomhole's landslide victory in 2012 re-election.
He said then, "though one of our sons (Gen Charles Airhiavbere) is the PDP candidate and he is running against Oshiomhole, in this election Oshiomhole is the candidate of the Benins, he is our son and the gods have said he will win with overwhelming votes". His predictions came to pass after Oshiomhole won in the entire 18 Local Government Areas of the state.
And prior to the formation of the APC, the Esogban predicted the destruction of the PDP at the national level and went on to predict Muhammadu Buhari's victory in 2015. It is not surprising therefore why the PDP does not like him. But anyone who knows the Esogban, when he passes the message across, he damns the consequences and of course it always come to past.
And that is why last Sunday's endorsement of Obaseki by the Etuedoseghe must be a source of concern to the PDP. Some of the Chiefs at the occasion included the Obasogie of Benin Kingdom, Chief Eduwor   Ekhator, the Inneh of Benin Kingdom, the Obazelu of Benin Kingdom, Chief Osaro Idah, who also is the state Secretary of the APC and several other palace chiefs.
The Director General of the Obaseki campaign organization, Osarodion Ogie, the Edo South leader of the APC, Gentleman Amegor led Obaseki to the palace of the Esogban. Addressing the elders and farmers, Amegor said "We have come with your son, with your brother with somebody that we all know very well who does not need introduction.
What I want to tell elders is that for almost eight years now we have a son, Oshiomhole, leading Edo state. We all know who Oshiomhole has been, he has been a focused person, he has been a wonderful guy, Oshiomhole infact started from this sitting room too. The man has performed brilliantly well. Now he is about to go and he looked at every body and said this is the man I am going to give the baton to.
The success Oshiomhole has recorded, he owns that success to our son, Godwin. If a man like that, that we respect so much, can bow and say all the successes I have recorded this is the man behind it, I think that is enough joy for all of us. If you look at it from that angle, it will be unreasonable, it will be unfair for anybody to go and give his vote to any other person apart from Godwin Obaseki.
This is the time we have found a worthy son, a good administrator, we have found a man with an excellent heart, we have found a man with great knowledge, if you listen to him, he might not make you laugh but if you see the potency in his speech then you will know this is a great heart and a great brain".
Endorsing Obaseki, the Esogban narrated that "We have been watching your rallies and the mammoth crowd you have been addressing. Generational crowd is what you have been addressing. We have some affiliate societies too who sent representatives here. One of them is the farmers union. They cut across the whole seven LGAs and Edo South. We have another big organization that is affiliate to this group, the traders who want to better the lot of Benin by establishing a big market.
We are not partisan in the sense that we don't attend political meetings, we don't have party cards but we are not oblivious to the good work of some political parties and the bad works of some political parties. Consequently, we have the right to chose if those wanting a particular thing are more than one. So Otuedoseghe in a meeting held here unanimously voted for the endorsement of Obaseki, the APC candidate. His predecessor Oshiomhole knows about this group and we supported him" he stated.
Expressing joy for the endorsement, Obaseki vowed to protect both the old and the young and promised never to forget the support from the prestigious Benin elders. His words: "I want to thank all the palace chiefs here today, the farmers, my mothers and brothers. Today, I have come to say thank you, to thank you because I was the least person expected to get the endorsement of all my people.
Eight years ago, when I decided to come and help, the last thing on my mind was coming to become governor of Edo state after Oshiomhole. Many of us decided to come back home when Oshiomhole became governor because we started seeing a fresh hope for our dear state. In fact we encouraged Oshiomhole to come and run for governorship of Edo state. We said to ourselves never again in our history do we have the sort of pestilence that we had in our land when driving to Benin from Lagos in a raining season like this. Some of us will have to put our feet on top of our steering because our cars would be flooded. So for us service to our people is the number one priority.
"Today you can see that a lot of things are possible in our state with the able leadership of Oshiomhole. I came to ask myself, now that we are rounding up with Oshiomhole, should we all just leave? Yes I am not a traditional politician in that sense, but I realized that we are at a very critical junction in the political history of this country and if we are not careful we could miss it again. Over the last forty years or more, our politics have been dominated by oil, we have been playing oil politics.
The politics was about how to share the revenue from Abuja but that era has come to an end. For some of us we have sat back to reflect and unfortunately a lot of political actors today do not realize that. We sat down and said this is the time to step up, we have built roads, we have recovered our state, yes we have accomplished a lot but we have only scratched the surface. There is so much now to do. We are now going to rebuild our civil service because the PDP killed the civil service in our state.
"The Benin empire is still great today, that blood of our fore fathers is still in our veins. We can work hard to become greater again. We are going to attract investments in the area if agriculture, electricity, logistics and in Edo North mining. Because these four activities constitute almost 60-70 per cent of our GDP. For agriculture, we are fortunate because we have a tradition of commercial agriculture. What we are going to do is to encourage more large skill farming.
He continued: "Another area is that we must fix our primary education. Our people kept running away to Europe because the education we give them is so substandard.
If I am going to spend a hundred naira on education forty of that hundred naira has to be on primary education. We have started the red roof revolution, cleaned up the infrastructure of our schools, now school is attractive because the schools we met, the one that the PDP government left for us, if that was how schools were then, I would not have gone to school.
Now we now need to improve the contents in our schools, train teachers, give them high quality training that was why I pushed that we should convert Ekiadolor to University of Education so we can begin to train a whole new generation of teachers who are conversant with 21st century technology and curriculum. If we get our education right over the next ten years you will be amazed what will happen.
EDO 2016: Esogban of Benin Kingdom predicts victory for Obaseki on Vanguard News.