By Dr. Ugoji Ebgujo
Jamaica. Bahamas. What happened to us? We became rich,  and foolish? Before our athletes started running for inconsequential countries like Qatar, our teams at international meets had started having more officials than competitors. We once dominated the sprints and gunned for boxing medals. Now, we are in Brazil with one real sprinter , and only one boxer. Prayers  are good.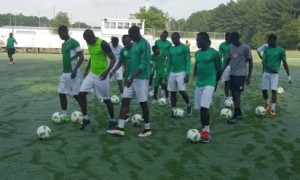 But our Caribbean cousins  are not prayer warriors. That which has left us with only  one boxer at the 2016 games indeed calls for prayers. The idea of Konyegwachie and Izonritei  cannot contemplate such wretchedness. Dick Tiger is now so mythical. But the Dream Team 6's Atlanta nightmare can explain the tragedy.
Before Delta Airline produced adverts that speak of their efficiency in rescuing persons lost at the sea of planlessness, our sports minister had gone to inspect facilities in Brazil. If the idea was to see how the Olympics is organized  first hand then it could yet be  a prudent trip. There is no harm in thinking futuristically. But while he was inspecting facilities thousands of miles away, his athletes were loitering in disillusionment.
They were trapped in an acute reality the  frivolity and superficiality of a ministerial sightseeing of Brazilian facilities could not  postpone. When the dream team took their dreams beyond the incompetence of the sports ministry and the NOC, the minister  wringed his hands off  their apparent truancy. It was enough to say, the nation was broke and all  training programmes  should happen locally. He had gone to check for them where they would lodge in Brazil, and they should be contented.
When filth started  seeping out, and ineptitude started  confronting our every gaze, we were told to disregard  the gossip of fools.  Nigerians never lack enemies. And they see them in criticisms and failures as they see them in illnesses. It wasn't long before the stranded football team made international news headlines. And the shame splashed on everyone. The minister bolted out of his woolgathering and started oozing  incoherent excuses.  Few hours to our first game, it felt like a bad dream.
Only dreams blend paralysis and anxious haste so well to yield such  intolerable torment. And we started praying.  Our team had months, but now needed a miracle to get to the pitch. We provided comic  relief to a world then wracked by terrorist attacks. Delta, answered our prayers. We got the attention of pity that  Europe bound refugees, rescued from hopelessness at sea, have made their own.
Once the team began defying the odds, in  a style typically Nigerian, government officials  started sidling towards the once abandoned players with effusive praises. Their success had to be owned. The minister now became proud of them. The other athletes met the perfidy with loud murmurs. The legendary neglect of preparation and welfare of the athletes should curtail the exuberance of fist pumps.
This government is not the reason  we have only one boxer at the games. Our decay has been chronic and institutional.  Our priorities have been our worst enemy. The Olympic village at Afuze, Edo state, has been allowed to decay. But strangely, and more tellingly, we couldn't even muster that last minute self deception in hurried late preparations. 2016 is a new low. It shouldn't be the ministry but the NOC and the federations are technically moribund. Government still funds sports.
The Dream Team won  gold twenty years ago. This regression in administration is scandalous.  Long Jump is  now as strange as  Rowing. But Rowing has  reiterated the lesson Judo tried to teach.   A self sponsored Nigerian girl, who could as well have claimed the North Pole as her nationality, competed for Nigeria in Rowing,in Brazil. She has proved, like Chukwumerije before her, that abject planning rather than talent  has consumed our medals.  Rowers and swimmers and weightlifters abound in us.
When  some  athletes took their frustration to social media and solicited for air tickets to Brazil, they were hushed. That was the culmination of the wretchedness of an Olympic preparation.  Cold blanket was thrown , all was smothered.  But sitting customarily beside this misery is the  perennial story of the waywardness of funds released for these games.
While accountability and probity can be   the starting point of a  revival, our sports needs brighter ideas. While we must sort out  the age-cheating that  hinders  youngsters and makes European clubs discount our players, we must salvage our local league. And while the league needs innovation to get the crowds back, the corruption that lets referees sell matches must end. The reticence of  corporate bodies can't  be broken until pimps  stop running games.
If we immortalize sports heroes, then we can channel youthful ambitions. And reorder societal priorities away from mercantilism while building national pride. But after the shabbiness that was the official participation in Keshi's funeral, one or two athletes may again opt for Portugal.
If the future is in agriculture, it is because the resources abound.  Good sports development programme that starts from the schools will be as redemptive as any 'back to the farms'  programme. But if the lawn tennis courts in our national stadia are being sustained  by alms,  then we must be afflicted by a terrible effort-desire mismatch. It is the denial of this stark discrepancy that always leaves us with shattered hopes.  Tragically , we are getting accustomed to being  mere cheerleaders for the Jamaicans.
If square pegs are incessantly  plugged into round holes at the very top, then our predicament truly needs  the most fervent of prayers . Our sportsmen think our failures are self inflicted. The sports  ministerial portfolio  cannot be another token that can go to just about anybody.
Because when ignorance  and incompetence come together in a minister destitute of passion for sports, misery  is magnified. If sports is a resource that must now be tapped, then the prioritization of expertise and  passion will be a good starting point. The organized private sector's participation will be indispensable in driving a regeneration. It can't be enticed by chaos and arbitrariness.
A  comprehensive development plan that unites corporate world funding with  grassroots  participation will save our sports.2020 is at the door.
2016 Olympics: Team Nigeria, Failure Foretold on Vanguard News.