Former Head of State, Gen. Abdulsalami Abubakar (retd.), who had a closed-door meeting with President Muhammadu Buhari at the presidential villa, Abuja, on Thursday, said that the issues he discussed with Mr. president were based on both national and international interests.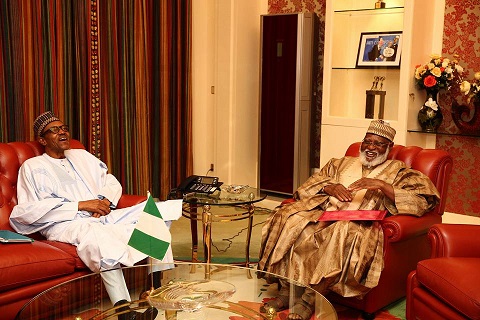 The former head of state who declined giving further details to the press about his discuss with President Buhari said he had no reason to disclose it to the media since he had already met with the person he wanted to see.
"I came to discuss issues of national interest and international affairs with the President. Both of them are interwoven. I have discussed with the person I came to see and I don't think I need to discuss it in the news media," he said.
Reacting to a claim that he had been silent on national issues lately, Abubakar said he had been busy talking to those that needed to be talked to. According to him, the National Peace Committee for the 2015 general elections which he chairs was still working behind the scene to make sure that there is peace in the country.
He called on all Nigerians to support the present administration led by Buhari in its effort to resolve the challenges facing the nation.
What i told Buhari in a closed-door meeting- Former head of state, Gen. Abdulsalami Abubakar on Vanguard News.