The Minister of Information and Culture, Alhaji Lai Mohammed last week  had an interactive session with the leadership of  the Performing Musicians (Employers) Association of Nigeria (PMAN),on the way forward for  the showbiz industry in the country.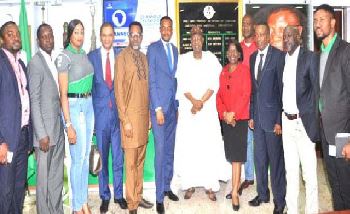 The minister who was visibly awe-struck as PMAN  interim president, Mr. Pretty Okafor reeled out the huge benefits of having a focused and united association with intelligent men at the helm of affairs, stated at the end of the presentation, that no stone will be left unturned to right all the wrongs in the system.
Describing the delegation as that of the ''authentic PMAN",  Mohammed described the estimated N10.3 trillion loss to national and global piracy in the creative industry as unacceptable. The figure which represented 85 per cent of the N15 trillion worth of the industry, he added, ''could turn the economy of the nation around if it was addressed."
He equally frowned at the trend where about 92% of music and video productions by Nigerian artistes were done mostly in South Africa, Europe and America whereas we have good locations for same back home.
''I want to assure you that the government would work with the association and provide the enabling environment for the creative industry to thrive as well as encourage investment therein," he promised.     The minister agreed with the recommendations of the association that November 30 should be set aside as 'Anti-Piracy Day', adding that both parties would soon converge together and announce government's commitment to fight piracy, protect creative assets and grow revenue in the sector.
One of the ways he hopes to nail the coffin of the monster is through the bar-code technology which the association launched months back.
Lai Mohammed wades into PMAN crisis on Vanguard News.