By  JAPHET ALAKAM
Flora Nwapa was the first black African internationally admired female novelist. Her first book, Efuru was published in 1966. She is a Nigerian author, teacher, administrator and a herald of whole generation of African women writers. But despite her numerous achievements, not much has been done for her since her death 23 years ago.
It was on this basis that the Flora Nwapa foundation in conjunction with  the organising committee of Efuru @50 is set to celebrate the pioneer African women literature, Flora Nwapa, as Efuru turns 50.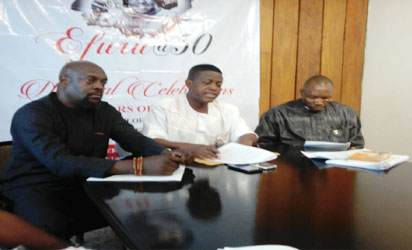 Addressing the media in preparations for the planned golden jubilee celebration of the book, chairman, Organising Committee of the Efuru @50, Dr. Wale Okediran, who explained the importance of the book and the author disclosed that series of activities have been lined up for the celebration slated for 2016.
Efuru is a novel by Flora Nwapa which was published in 1966 as number 26 in Heinemann's African Writers Series, making it the first book written by a Nigerian woman to be published.
The book is about Efuru, an Igbo woman who lives in a small village in colonial Africa. The book is rich in portrayals of the Igbo culture and of different scenarios which have led to its current status as a feminist and cultural work .
According to him, "in view of the global acceptance of the book and its author, it is imperative to celebrate the golden anniversary of the publication of this very important novel with a National Conference on the theme, Rekindle the Declining Reading Culture of Nigerian Youths: Efuru and Flora Nwapa as Iconic Symbols."
SCOPE OF CONFERENCE
The Conference is proposed to be a four City national event with a number of activities ranging from symposia to a children's carnival, writing competitions, drama sketches of 'Efuru' as well as a Grand Finale with a Night Of Tributes. The above named activities will be situated in Lagos, Abuja, Maiduguri with the Grand Finale in Enugu and Oguta.
Many Local and Foreign writers will be invited to deliver papers on the Conference Theme. In addition, "there will be a call for papers with the hope that we can have a very lively discussion around the book."
Continuing, he stated that, the conference is to celebrate the 50th anniversary of EFURU the book that heralded the birth of Modern African Women Literature. In so doing, the Conference will also be celebrating the pioneering work of Africa's first published Women Author as well as the achievements, friendships, partnerships and challenges of African Women Literature this past 50 years.
It will be a platform for writers, scholars, literary critics and other interested parties to engage, rethink and propose possible new directions for African Women Literature, which has been defined (and undefined) by different agencies at different moments.
The events will open in Lagos on November 29 2016 with a Symposium, Finals of School Competition and Drama. Then it will move to Maiduguri; on December 1, 2016 with a Symposium, Finals of School Competition and Drama. It will then go to Abuja on December 3, 2016; with Children's Carnival and Stage Play by Secondary School Students at NTA arena and finally, the grand finale with a  Symposium and Night of  tributes/Dinner on Sunday, December 11 2016 at Enugu and an Igbo cultural festival among Eastern states with Oguta cultural festival and a tour of Oguta lake.
Speaking at the briefing, Barrister Uzoma Nwakuche, the son of late Prof. Flora Nwapa Nwakuche OFN.  representing the newly formed Flora Nwapa Foundation, who described her mother as a lady of firsts said, "this year 2016, we should be celebrating the novel Efuru and the birth of African Female Literature.  We are Celebrating African Women and Flora Nwapa."
Nwakauche who is not happy that Flora Nwapa was not mentioned in the centenary list urged the Federal and State Governments especially in former East Central State to acknowledge and join hands to celebrate this great African woman who has served her country and pioneered modern day African Women Literature in her relatively short but extremely productive and memorable life.
Adding that "Flora Nwapa Foundation will promote her legacy; promote African Women Literature; encourage young aspiring female writers and promote the essence of Flora Nwapa's work – the dignity and economic independence of women whose role in traditional society are sometimes threatened or unappreciated," he added.
Also contributing, Prince Paschal N. Mebuge- Obaa 11,  the events planner, co-ordinator and promoter of Efuru @50 who stated that Flora Nwapa  belonged to not just the league of actors of her time, but of all generations, disclosed  that the international lap of the activities lined up for the celebration commenced since March 2016 with the UN's Commission for Women celebrating Efuru and Flora Nwapa in New York City, followed by three panels at the African Literature Association(ALA) conference in Atlanta, USA, and public presentations at SOAS, the University of London.
Golden jubilee celebration of Flora Nwapa's Efuru begins on Vanguard News.