By Dapo Akinrefon
United Niger Delta Energy Development Security Strategy, UNDEDSS, yesterday, said that President Muhammadu Buhari has all it takes to put an end to the crisis in the Niger Delta.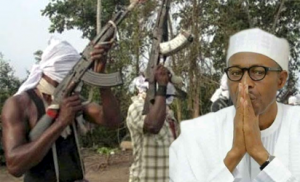 UNDEDSS said that a proposal on the way out of the crisis had been presented to President Buhari over four weeks ago, after many meetings with the Federal Government.
The group, in a statement by its Secretary General, Mr. Tony Uranta, said: "President Buhari knows what he needs to do to end the crisis today, if he so desires.
He probably has not, because he has allowed his administration to be beset by too many petty rivalries, too many individuals jockeying for relevance and too many party chieftains of Niger Delta origin who don't have the interests of the region at heart."
Mr. Uranta hinted that he and other well meaning Niger Delta citizens, interfacing with patriotic members of the President's Inner Cabinet and intelligence chieftains, and have "drawn up a proposal that should be win-win for all parties concerned.
"This dynamically-tweaked proposal is before Mr. President, the armed agitators in the creeks, the international community (including the UK and the USA) and other interested Nigerians such as Nobel Laureate, Professor Wole Soyinka."
Buhari can end N-Delta crisis today if he so desires – UNDEDSS on Vanguard News.