Lagos – Former Director-General of the defunct National Sports Commission, Amos Adamu, has urged Nigerians not to be disappointed with the Dream Team VI over their loss to Germany.
The national U-23 team on Wednesday lost 0-2 to their German counterparts in the semi-finals of the football event of the ongoing Rio Olympics.
"Nigerians should be proud of these boys, in the face of the hostility they encountered; they performed better than my expectations.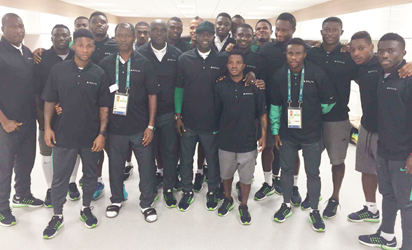 "I never thought they would qualify from the group stage talk less of getting to the semi-finals, they gave their all as you can see in their matches.
"They played against a more technically inclined Germany, the better side won.
"In sports, you win some, you lose some; I'm so proud of them because irrespective of the drama surrounding their stay in Rio they kept together.
"I believe we can get the bronze medal with God and luck on our side.
"I have never seen a team so focused as this team, I salute the courage of the players, they were not disgraced, they fought gallantly,'' Adamu a former member of FIFA Executive board said.
Also, former international, Friday Ekpo, told NAN that the Nigerian team would have done better in the match against Germany.
Ekpo said that the players did not approach the match with a winning mentality, noting that the German's were beatable if the players were determined in their approach.
He added that the team's inability to convert most of their chances also was partly responsible for the outcome of the match against Germany.
The ex-international, however, commended the team for their performance so far, advising the players to put in their best against Honduras in the third place match.
Kayode Tijani, a sports analyst, said that the team played a good game though they missed some good chances that could have seen them through.
He said that the second half saw a cold game by the team as there was no desire to win.
He noted that the second goal by the Germans was scored in at the last minutes because the players' spirits dropped.
Tijani said that there was still hope for the team to win the bronze against Honduras.
Amos Adamu urges Nigerians to be proud of Dream Team VI on Vanguard News.