By Vera Samuel Anyagafu & Prisca Sam-Duru
The newly appointed One Road-One-Belt fund Management company (OBOR) Director of Liaison in Nigeria and President, Shanghai Engineering and Construction works, China, Mr. Uzoma Mbisiogu, who recently converged a group of Chinese investors to partner Nigeria in some key developmental projects, vis-a-vis agriculture and housing, has said that without constant and efficient power supply, Nigeria will continue lagging behind in industrial development.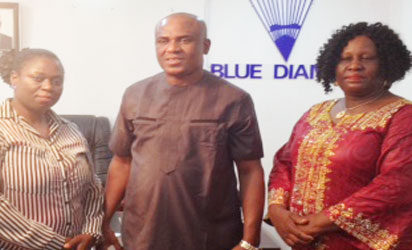 Mbisiogu who spoke when a group under the aegis, Circle of Women Advocates, COWA, led by its Nigeria District President, Bishop Priscilla Otuya, paid him a courtesy call in his Lagos office, disclosed that power situation in Nigeria is rather embarrassing, considering the huge funds pumped into the sector by the Federal government , adding that the consequence is more a decrease in economic activities and social comfort of Nigerians.
He noted the degree of adversity Nigerian citizens face on a daily basis, while pointing out the need to look at the factors militating against the realization of adequate and steady power supply in the country.
"For enviable economic growth and wooing of more foreign investors, we need to quickly strategise on how to ensure constant power generation in the country and the sooner we do that, the better we would be on the path leading to industrial development and much more.
It is sad to know that Nigerians have become so used to the situation that they now see it as the normal thing and this is not the case in most countries abroad, and I cite China as an example", he added.
Lending her voice, Bishop Otuya, said that the remote cause of insufficient power generation in the country would not be far from corruption in high places, while promising that COWA through its partnerships with both the federal and state governments, will increase campaign on correcting some of the ills in the society and ensure that the youth are empowered and sensitized to realizing a healthy and corrupt free Nigeria.
Without constant power supply, Nigeria will continue lagging behind economically…- Mbisiogu on Vanguard News.