By SIMON EBEGBULEM
BENIN CITY-GOVERNORSHIP candidate of the All Progressives Congress (APC) in Edo state, Mr Godwin Obaseki, Wednesday, disclosed that he has found his missing certificates, saying those raising false alarm over the issue are only scared of his credentials.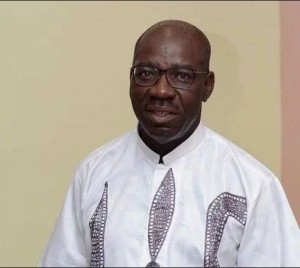 Obaseki who disclosed this during an interactive session with members of Civil Society Organisations in the state with the theme, "The Need for Governorship Candidates to Effectively Promotes their programmes to Edo People", also disclosed his plans to build Mini stadiums across the eighteen Local Government Areas of the state if elected.
The Executive Director of the African Network for Environment and Economic Justice (ANEEJ), Rev.David Ugolor, said the interactive session was organized to enable the public relate with the APC candidate, saying that "all the candidates will appear before us and I want to state that none of the candidates have given us money or is sponsoring this exercise, civil society groups funded it so we will know the pedigree of the candidates in order not to vote the wrong person".
Obaseki who equally disclosed that if elected his administration will build mini stadiums in the 18 Local Government Areas of the state, said he found out that "my certificate was missing in Lagos during this period so I had to get a sworn affidavit and all the institutions I attended acknowledged that I attended the schools. However, while the mischief makers in PDP raised the alarm because they have nothing else to talk about me, my brother in New York read about it and called me to say Godwin your original certificate is here with me.
"I said Oh my God please send it down. So I have found it. These guys are intimidated with my qualifications that is why they are running up and down" he stated.
Disclosing plans to boost sports development in the state, Obaseki noted that sports have become a big business in the country therefore stressed the need to provide a mini stadium in each of the Local Government so as to encourage youths to explore their talents in different sports.
According to him, the only way government can attract investment into the sector, is to first be involved in its development, saying "We have them in abundant, youths with great talents and to expose these talents, we are going to build mini stadium in each of the eighteen Local Government Areas of the state.
"We do all our campaigns in public school fields and some of these schools, we have an apple space where these mini stadium can be built. For me, this is part of what we are going to do to promote sports development in the state when elected".
The APC candidate who also disclosed how he intends to improve the economy of the state through agriculture, noted that no government would be able to satisfy everybody at the same time particularly with the dwindling revenue from the Federation account, asserting however that he intends to look inward and generate funds so he can run the state effectively.
I've found my original certificates- Obaseki on Vanguard News.