Jos – Governor Simon Lalong of Plateau State, yesterday, said another commission of inquiry had been set up to review the administration of his predecessor, Senator Jonah Jang, who is currently representing Plateau North at the Senate.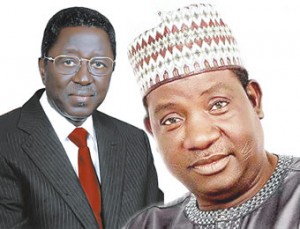 Lalong, however, said the fresh six-man probe panel was not to persecute or witch-hunt anybody, but to aid government to unravel issues that might be hidden to guarantee the prosperity of the people of the state.
According to the governor, the commission's focus is from May 29, 2007 to May 29, 2015 and its terms of reference are "to ascertain all financial transactions done or entered into by the state government or through any of its Ministries, Departments and Agencies, MDAs, or official acting in its name;
"Ascertain the total amount paid by the state government as salaries and allowances of serving and retired civil servants, local government employees and political appointees;
"To ascertain and establish all financial allocations, funds, grants or monetary interventions and revenues, which accrued to or in the name of the state government, MDAs, officials or agents from the Federal Government or any international institution or donor agencies;
"To ascertain and establish all loans granted to or obtained by the state government through any of its MDAs and the purpose for which such loans were obtained and whether the loans were used for such purpose."
According to the governor, the new panel, headed by Justice Stephen Adah, All Progressives Congress, APC's rescue government in the state under his leadership, would not stop towards ensuring that the past administration was made to give public account of its stewardship.
Jang reacts
Meanwhile, Senator Jang, through his aide, Clinton Garuba, welcomed the development in the interest of peace and stability "as the Senator has grown weary of the inconsequential ranting, outbursts, threats and sensational media trial of his illustrious time as Governor of Plateau State.
"For the umpteenth time, the former Governor and Senator finds it most apt to reiterate his stand that he absolutely, without equivocation, has nothing to hide.
"Governor Lalong, who may never be able to measure up to the developmental strides, records, and achievements of Senator Jonah Jang, lacks the credibility to be taken seriously judging by his abysmal show of inertia to the forces of progress and development.
"At the last count, the Judicial Commission of Inquiry is the fifth committee Lalong has constituted, mandated, empowered, and inaugurated to probe the tenure of the former governor, and like the rest before it, nothing would be gained except the visible characteristics of all associated with power acquired by accident."
Governor Lalong inaugurates 6-man panel to probe Jang on Vanguard News.