By Simon Ebegbulem & Gabriel Enogholase
GOVERNORSHIP candidate of the APC, Mr Godwin Obaseki, yesterday, disclosed that he has found his missing certificates, saying those raising false alarm over the issue are only scared of his credentials.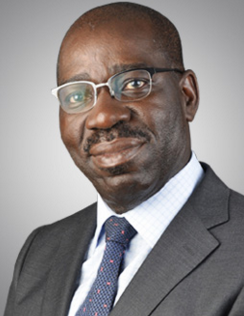 The PDP has challenged Obaseki to show his academic certificates to Edo people since he claimed he has found them.
The party also repeated its earlier challenge to Governor Adams Oshiomhole, Edo APC Chairman, Mr. Anslem Ojezua and the party's Deputy governorship Candidate, Hon. Philip Shaiubu to show Edo people their certificates, saying that the PDP State Chairman, Chief Dan Orbih, PDP Candidate,Osagie  Ize-Iyamu and running mate, John Yakubu will do the same and leave the press and Edo people to judge.
"We can throw in the certificate of the last elected PDP governor of Edo state, Prof Osunbor to balance the equation", the party said in a statement by its State Publicity Secretary, Mr. Chris Nehikhare.
"We hear that Mr. Godwin Obaseki is now saying that he has found his certificate in far away New York, a situation that is reminiscent of the "Chicago " brouhaha! He claims that he has had no reason to use his certificate in 25 years meaning when he returned to Nigeria, he didn't need it to apply for his job.
"Maybe he told his employers then too that his certificate was missing. We have cause to believe that nobody has ever seen or sighted the certificates of Mr. Godwin Obaseki and our challenge is hereby repeated. Let Governor Oshiomole, candidates Godwin Obaseki and Phillip Shuaibu as well as Chairman Anslem show their certificates to Edo People. The PDP State Chairman, Chief Dan Orbih, Candidates Ize-Iyamu and John Yakubu will do same and let the press and Edo people be the judge,'' the PDP said.
Display them- PDP
Obaseki who disclosed this at an interactive session with members of Civil Society Organisations, CSOs in the state on the theme: "The Need for Governorship Candidates to Effectively Promote their programmes to Edo People," also promised to build mini stadia across the 18 local councils of  the state, if elected.
The Executive Director of the African Network for Environment and Economic Justice, ANEEJ, Rev. David Ugolor, said the interactive session was organized to enable the public relate with the APC candidate, saying that "all the candidates will appear before us and I want to state that none of the candidates has given us money or is sponsoring this exercise; civil society groups funded it so we will know the pedigree of the candidates in order not to vote the wrong person"
On his missing certificates, Obaseki said: "my certificate was missing in Lagos during this period so I had to get a sworn affidavit and all the institutions I attended acknowledged that I attended the schools.
However, while the mischief makers in PDP raised the alarm because they have nothing else to talk about me, my brother in New York read about it and called me to say Godwin your original certificate is here with me.
"I said, 'Oh my God, please send it down.' So I have found them. These guys are intimidated with my qualifications that is why they are running up and down."
Edo 2016: Obaseki's certificates reappear on Vanguard News.