By Evelyn Usman
Two members of a syndicate that specialised in vandalising underground cables belonging to the defunct Nigeria Telecommunication, NITEL, offered N500,000 to men of Lagos State Police Command to set them free.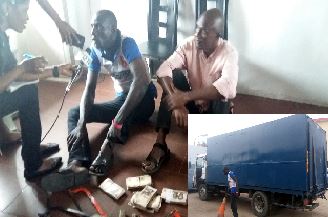 A team of policemen swooped on them in the early hours of yesterday while they were loading the vandalised cable, worth N3.8 million, into a truck.
The anti-crime patrol team, attached to Ikeja Division, according to the state Commissioner of Police, Mr. Fatai Owoseni, "accosted two suspects, Akeem Babatunde and Ibrahim Sisi, while they were loading vandalised NITEL cable into a truck beside Lagos State High Court, Ikeja.
"They made an offer of N500,000 to the police officers with a view to covering up that crime and the policemen played along, but took the suspects to the DPO. On counting the money, it was discovered to be N493,500.
"The money, offered as bribe, the Volvo truck with which they were about carting away the cables, the tools used to cut the underground cables and some cables loaded into the truck were recovered.
"We are making effort to arrest the third suspect, Wasiu Salami, who is on the run. Meanwhile, the two suspects will be arraigned in court tomorrow (today)."
Buyer tells his story
One of the suspects, Ibrahim Sisi, 39, a scavenger, said he only went with the vandals to the scene to get the cables before paying them.
He said that he initially went with N200,000 to buy the vandalised cables, but later went home to get additional N300,000, only to be accosted by policemen.
He said: "I was interested in the business because I sell scraps. When the vandals approached me, they said they would sell the underground cable to me for N300,000. I went with the cash so as not to be swindled at the end of the day.
"The policemen came just as they were loading the cables into the truck. I did not negotiate with them, it was the vandals that negotiated with the police."
Cable thieves offer N500,000 bribe to police on Vanguard News.