By Chidi Nkwopara & Chinonso Alozie
OWERRI—Imo State Government has challenged the Ayuba Wabba-led faction of the Nigeria Labour Congress, NLC, to publish the alleged labour sins of Rochas Okorocha or risk being seen or labelled as blackmailers.
The Chief Press Secretary, CPS, to the state Governor, Mr. Sam Onwuemeodo, stated government's stand yesterday, while reacting to the planned labour protest scheduled for  August 26, 2016.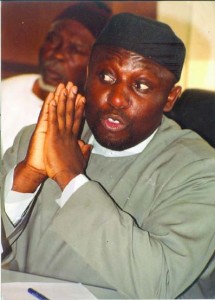 "We challenge Ayuba Wabba to publish the claimed abuse of public service process by Imo State Government for Nigerians to see," Onwuemeodo said.
It was also the considered opinion of the CPS that if labour fails to publish the alleged sins of the government, "we will view the planned August 26, 2016, protest against the state government as mere blackmail and posterity will hold it against the organizers."
While denying the allegations against the government, Onwuemeodo, however, affirmed that "the only problem the labour union in Imo has with the state government is that the leaders of the Congress have taken delight in blackmailing the Rochas-led administration for reasons we have always hesitated to talk about,"
The CPS accused labour leaders of constantly opposing every government policy, not minding the popularity of such policy.
"The only way to impress the workers is by opposing every policy of the state government, not minding the popularity of such policy," Onwuemeodo said.
He recalled how Wabba and his group were ferried into the state last February, to protest over one month salary owed to workers and the suspension of certain categories of workers in the parastatals, for the purpose of re-positioning them for productivity, adding that the protest gave birth to the 70:30 per cent agreement.
"The crux of the agreement was that government will retain and run all its affairs with not more than 30 percent of the verified revenue every month, while the joint committee will apply the balance of 70 percent in the settlement of salaries of public servants and pensioners", Onwuemeodo said.
Efforts made to reach the state leadership of the NLC failed, as the mobile line of the State Chairman, Comrade Austin Chilakpu, could not be connected.
Alleged Labour Sins: Imo govt tackles NLC on Vanguard News.