By Dayo Johnson
Akure—CRISIS engulfed the All Progressive Congress, APC, in Ondo State as its state chairman, Mr Isaac Kekemeke was, yesterday, suspended for anti-party activities by some members of the party.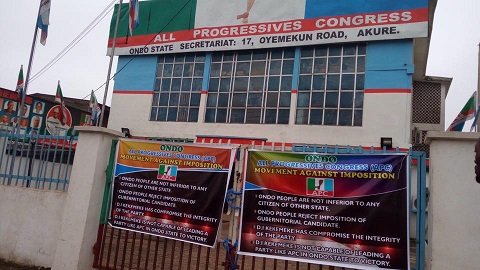 This is coming barely 11 days to the party's governorship primaries. An acting chairman, Saka Yusuf was immediately appointed by the members, ostensibly acting the script of some aggrieved governorship aspirants of the party.
The crisis within the party deepened following Asiwaju Bola Tinubu's alleged endorsement of one of the 25 aspirants, who collected a nomination form.
Supporters of the governorship aspirants and leaders of the party sacked the state executive members by sealing off the party secretariat in Akure.
As early as 8am, the protesters from the 18 local government areas of the state invaded and barricaded the secretariat along Oyemekun road in Akure metropolis chanting solidarity songs.
They displayed various placards which read: "State Minus Kekemeke Equals Victory; No Impostor, No Imposition, No Endorsement; Kekemeke Is A Mole in APC; APC Plus Kekemeke Equals Failure," among others.
Addressing newsmen during the protest, their spokespersons, Tolu Babaleye kicked against imposition of any candidate ahead of the August 27 governorship primaries.
Babaleye accused Kekemeke of enforcing the endorsement of one of the 25 aspirants of the party as the candidate in the primary poll, as being directed by their National leader, Bola  Tinubu.
He said: "Since he came back from Lagos, Kekemeke has made serious efforts to enforce the endorsement. Kekemeke openly informed the state executive committee that Asiwaju Bola Tinubu has endorsed an aspirant and has instructed him to tell the leaders and delegates."
Ondo APC Chairman suspended, secretariat sealed as crisis engulfs party on Vanguard News.