By Evelyn Usman,
LAGOS—Emotion ran high yesterday, at Lagos State Police Command, Ikeja, following the account by a 16-year-old house help, Kemi Leole, of how she was beaten and burnt with pressing iron by her madam and her relative in Ikeja area of Lagos, leading her to attempt suicide.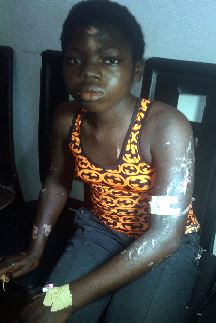 The teenager, who was brought from Cotonou, Benin Republic, by an undisclosed agent in January, to Nigeria, was brought directly from the hospital where she had been receiving treatment since Saturday.
She wobbled into the conference hall with a drip syringe still attached to one of her wrists.
Vanguard learned that after inflicting burns on Kemi, she was ordered to leave the house. Some concerned neighbours alerted policemen attached to Ikeja Division, consequent upon which her madam, one Alhaja Fatima Williams, 50, was arrested last Thursday at her 8 Soji Adefegba residence, off Allen Avenue, Ikeja. The policemen thereafter, took the ailing maid to the hospital.
Her story
Narrating her seven-month experience in the hands of her boss, Kemi said: "Since I was brought from my country, I was not enrolled into any school. I ate very late at night.
"On that particular day, while I was doing my chores, she asked me to accompany her to the market. When we returned, I attempted to eat, but she said I should go and wash her clothes, wash the plates, sweep the compound, wash the gutter, mop the floor, clean the louvres and doors.
"I was on the chores till 11p.m. When she came back, she started quarrelling that I did not clean the compound. She ordered Brother Waliu, who was pressing his clothes to beat me up.
"He came with a wire and beat me and at the same time placed the hot iron on parts of my body. When I called on mummy to come to my rescue, she instructed Brother Waliu to beat me harder."
Suspects' defence
However, Mrs Williams, a mother of two, claimed she never laid a finger on Kemi, but admitted to have instructed her relative, Waliu, to beat her.
She said: "But in the process, she tore his clothes and ran to the kitchen to collect an insecticide, threatening to take it if Waliu touched her. I did not beat her."
On his part, Yusuf Waliu, who burnt Kemi with pressing iron, said he did it in error.
Asked if the marks of violence on Kemi's body were also done in error, he said: "It was mummy that told me to beat her. I told her to kneel down, she said she won't.
"Instead, she went to the kitchen, took an insecticide and attempted to swallow it. I told mummy to bring palm oil and give her a spoonful to neutralise the effect.
"I didn't deliberately burn her with the iron; I only wanted to scare her with it. It was a mistake. Besides, I only used it on her once and beat her with the string."
How domestic brutality led housemaid to attempt suicide on Vanguard News.