By Emma Amaize and Perez Brisibe
*As protest continues in Escravos Tank Farm
WARRI – THE dispute between the people of Ugborodo, an Itsekiri riverine community in Warri South-West Local Government Area, Delta State and Chevron Nigeria Limited, CNL, which started, last Tuesday, with the villagers laying siege to the company's facility in Escravos deepened this morning.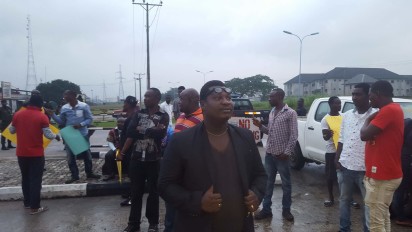 While the barricade of the Escravos Tank Farm continued on sixth day (today), a section of the community cordoned the main entrance to CNL office in Warri as early as 6.00 am today.
They said the company has chosen to remain adamant since the protest, but the march on CNL, Warri, has nothing to do with the meeting convened by the state government today (Monday) at Asaba to look into squabble over the management of the community's affairs.
National President of the National Association of Itsekiri Graduates, NAIG, Collins Edema, who confirmed the fresh siege to CNL, Warrri, said the villagers were still occupying the Tank Farm at Ugborodo and would remain there until the appropriate authorities address the contending issues.
On ground with him to steer the protest against CNL in Warri were the president of the Itsekiri National Youth Council, Esimaje Awani, chairman of Omadino community, Oritseweyinmi Agbonnekuya Aginejuone, president, Movement for the Protection of Iwere Homeland Development and History and Itsekiri HOSTCOM (Youth wing), led by Jemine Ejegi.
More details later.
Ugborodo lays fresh siege to Chevron, Warri office on Vanguard News.