By Emma Amaize
OKPOKUNOU—PARAMOUNT ruler of Seimbiri Kingdom, Bomadi Local Government Area, Delta State, His Majesty Pere (Dr) Charles Ayemi-Botu, aka the Lion of the Niger, has called for peaceful coexistence among his people, saying that only harmonious living could guarantee peace and usher in speedy development to the kingdom.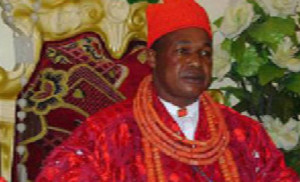 Pere Ayemi-Botu, who stated this at a meeting of Siembiri Traditional Council of Chiefs in Okpokunou to review the outcome of a land suit instituted against Okpokunou Urban Community by the Ogboware and Agoduware families of the same community and another case of defamation against the monarch.
Presiding judge, Justice Excel Gentu Timi (Mrs), in her judgment, July 11, at the Orerokpe High Court, dismissed the case for lack of merit. Days later, Justice Michael Nduka of Bomadi High Court found a musician, Prince Sunday Safugha, liable in a case of defamation of character filed against him by His Majesty Pere Charles Ayemi- Botu.
The court awarded the sum of N30 million only as defamation in favour of the monarch and ordered the defendant to tender a written apology to be published in two national dailies,    including the Delta State-owned Pointer Newspaper and retrieve all the "CDS" he had sold out as well as compose a new song to retract his former song.
The monarch admonished those involved in the suit to accept the judgments, noting that it was the will of God. He also advised the parties to come home and apologize to the community, especially the family that lost its son because of the problem.
He said he had forgiven them as a father, while his chiefs and subjects, visibly elated at the two court victories expressed their unalloyed loyalty as they thanked God for vindicating their monarch.
Monarch advocates peaceful co-existence to fast-track devt on Vanguard News.