Judith Ofori, a Ghanaian is here in Rio as a volunteer  for the Olympic Games.   A 300 level  Business Administration student back home in Ghana, Judith is stationed at the famous Maracana stadium.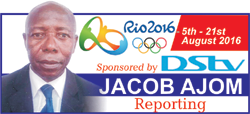 Tony Nezianya of the News Agency of Nigeria  and yours sincerely were waiting for a bus to go to the Olympic  Games Village when suddenly we spotted a young dark-skinned girl in company of a young man, a Brazilian. First, we approached the man and  asked  if he understood  English. "Yes," he responded but instinctively, he pointed at the girl to attend to us.
We told her we were Nigerian journalists, wanting  to go to the Games Village. She said she was  from Ghana, Nezianya's mood changed. He explained to her  that he once schooled in Ghana. They even exchanged pleasantries in Twi language.
I interrupted them with the question,: "What  are you doing here?" Before she answered, I threw another question, " are you with the Ghana contingent to the Games?"
"No, no, no. "I am here as a volunteer. I think it's a wonderful experience," she said.
How did she make it to Brazil? "I was sponsored by my dad," she explained. Even her accommodation is being paid for by her father. Benefits? "I have made friends, and gathered a lot of experience on how international  events like the Olympics are organised. Above all, I see myself as part of a global family, an international  citizen of some sorts."
Ofori hopes to get her first degree in Business Administration in Ghana  and go ahead to Britain for her Masters in Supply Chain.
Judith, the erudite volunteer on Vanguard News.