AFTER defeating Denmark 2-0 in the quarter final match of the ongoing Olympics, National U-23 team coach, Samson Siasia has heaped praises on his players for their team spirit and the brazen display of a collective resolve to achieve their set goal – winning the gold medal.
Siasia and his wards passed through hell to get to Brazil but have since put that behind them and progressed in the tournament with commanding performances. He has declared that having gone that far in the tournament, winning the gold medal is not negotiable.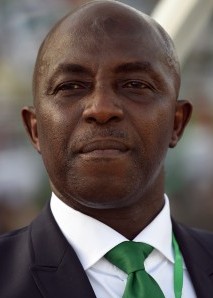 "We all know it is not easy, nobody wants to be in the situation we were in a week ago when we were still in Atlanta. But your circumstances should not determine what goals you set for yourself and what you want to achieve." the coach said, in match briefing in Salvador.
"It was very difficult circumstances. We struggled to get here. But there is a oneness, a team spirit and a willingness to overcome.
"The boys are together and they want to make sure that they can succeed in spite of all the troubles. I am very proud of what they have done together."
Siasia and his boys know what stands between them and their target; Germany. The Germans will, perhaps pose the biggest obstacle as they have scored 14 goals in their last two matches. But Siasia remains confident. "We are here to win. You cannot come this far, go through what we went though, then just give up. We will do everything we can to make sure we will get the gold medal."
On his thoughts if they were to play Brazil in the final: "We saw what they did to the Danish team (Brazil won 4-0 in the group stage). They are a good side. They did not start well, but the most important thing is how you end."
It's gold or nothing – Siasia on Vanguard News.