The Summer Rio Olympics is getting more interesting and intense as it goes into the home stretch. Many athletes whose events have been completed have already started trooping out of the massive Games Village.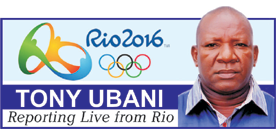 Many others whose events are just beginning are showing teeth-gritted determination to write their names in gold, silver or bronze. Expectedly, not every athlete or country are expected to win medals. Some individual athletes have also won more medals    than some countries put together since their participation at the Olympics. Life goes on. Like they say, that is the spirit of the Olympics. Participation is more valued than winning.
Anyway, the fun has set in. Those who could not win medals can as well win souls. It would be disastrous to lose on all fronts. One cannot go home empty handed. And that brings us to the surge for condoms. They are strategically placed. And there is a rush for it. Yes, by both male and female.
About 450,000 condoms have been distributed here at the Rio de Janeiro Olympics, three times more than the London Games four years ago, the International Olympic Committee said.
100,000 female condoms were made available for the first time, along with 350,000 condoms for men. About 175,000 packets of lubricant were also supplied. After my supper, I went to the vending machine to dispense some condoms. There were about four females trying to get their hands on them. Unfortunately, they did not know how to operating the machine. I gave a helping hand and we got talking. ''How many do you want?", I asked. "5", she said as they all giggled. "Is it for you alone?", I asked.    ''No, it's for all of us", she said.
While dispensing mine, another group queued. I know you would want to know what I am going to do with mine. It's a souvenir for my friends. Both male and female. After all, there are male and female condoms. How can I get such good souvenir without giving to Alaba, Emeka, Fred, Vikolo, Cumberland, Pat, Charles, Gbenga, Sola, Chioma, Ngozi, Funke, and some other pretenders who would take theirs in secret. The condoms according to the International Olympic Committee would encourage athletes and staff to practice safe sex. That is why I am bringing it home, too.
Everybody condom condom! on Vanguard News.