By Rotimi Ojomoyela
Ado-Ekiti—Governor Ayodele Fayose of Ekiti State has alleged that President Muhammadu Buhari's seeming ineptitude has unleashed unprecedented sufferings on Nigerians, stressing that Nigeria is in the hands of wrong managers.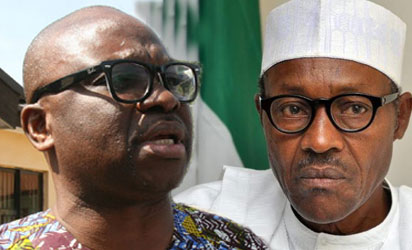 Fayose said conditions of Nigerians under the All Progressives Congress, APC-led government  have been made worse because
"the country is in the hands of wrong managers who do not know what to do and out of nepotism, are not ready to be assisted by those who know."
The governor said "Presently, Nigerians are suffering, hungry and angry because the APC Federal Government has run the country aground. Nigeria has gone beyond recession, the economy has collapsed completely and painfully. Those who should revive the economy do not have any clue as to what to do."
In a statement by his Special Assistant on Public Communications and New Media, Lere Olayinka, Governor Fayose said Nigeria was experiencing the worst form of nepotism in the history of government in the country, noting that "Nepotism is the reason our President discarded competent people in his party that should be running the government with him and opted for his relatives, friends, in-laws and very close associates."
He said: "The only qualification to hold key positions in the Presidency is to know a certain nephew of the President or be a member of his family. That is nepotism and what nepotism breeds is incompetence.
"The most influential person in the Presidency today is said to be one Mamman Daura, who is a Buhari's nephew. The Personal Assistant to President Buhari is said to be the son of Mamman Daura, while the State Chief of Protocol is said to be married to Mamman Daura's daughter,"
"It is also the height of nepotism that apart from just two, all security chiefs and heads of all the paramilitary agencies in Nigeria, as well as all the political-heads overseeing all the military and paramilitary arms and agencies are from the North of Nigeria," the governor lamented.
According to him, President Buhari was obviously being tormented by fear of the unknown, which he described as the main reason people take to nepotism.
The statement reads: "As a leader, you don't need to fear anything. But the moment a leader peeps into the future, realising that his lack of capacity could have consequential effects on him, such a leader will definitely resort to nepotism to protect himself.
While lamenting the parlous state of the country's economy, Governor Fayose said; "Most of those people that aided the emergence of President Buhari must be having a rethink now, but it is too late."
In addition, he said, "Interestingly, political affiliation has nothing to do with hunger, poverty and lack.  Exchange rate was less than N200 to $1 when President Buhari took over power, as at today, it has gone beyond N400 to $1 and Naira is still undergoing a free fall. One bag of rice was less than N8, 000 as at May 2016, it is now N20, 000. Kerosene is now beyond the reach of the masses."
"Nigerians voted for change because the APC promised them solutions to the country's problems, but all we hear every day from the APC Federal Government are complaints upon complaints as if Nigerians elected a government of complaints."
"Obviously, the APC government has failed Nigerians and the President has resorted to putting his immediate family members and close associates in key government positions to protect himself from the fear of the unknown that has enveloped him", he stated.
Economic recession: Nigeria in wrong hands — Fayose on Vanguard News.