By Ifeanyi Okolie
Police authorities said it has busted a notorious syndicate of fraudsters, who specialised in counterfeiting local and foreign currencies.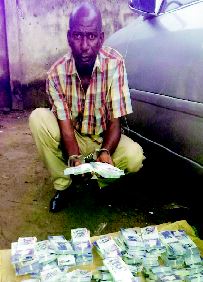 Vanguard gathered that two members of the syndicate, identified as Asiedu Ofei, a Ghanaian, and Tunji Femi, were declared wanted when police operatives raided the syndicate's hideout in Lagos and Ekiti states, where they recovered millions of fake Cedis and Naira.
Asiedu Ofei was arrested during the raid, but escaped from police custody when he led policemen to arrest other members of his syndicate.
A police source disclosed that Ofei and members of his syndicate normally produce the counterfeit currencies in China,  bring them to Lagos before smuggling them to Ghana, where they are exchanged for original currencies.
The source added that effort to re-arrest Ofei had remained unsuccessful, adding that  police had no information on his whereabouts.
The source said police were counting on the public for  information that could lead to the  suspects' arrest.
Counterfeiter arrested, accomplice declared wanted on Vanguard News.