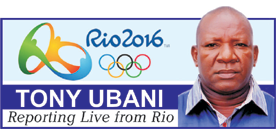 Efe Ajagba provided a fast start to Nigeria's Olympic boxing tournament with a knockout victory over Trinidad and Tobago's Nigel Paul in round one in just 2.44 seconds.
Many who were still sorting things out at the gate did not see the fight.
It was a flash and the Nigerian romped to the quarter finals to face Kazakhstan's Ivan Dychko who also qualified to the quarter finals via a knockout win over his Azerbaijan opponent.
Ajagba who is the sole boxer representing Nigeria in Rio jumped to the rope to acknowledge the crowd's roaring support before dashing to his coach's corner to grab Anthony Konyegwachie in celebration.
Ajagba who won gold at the 2015 All Africa Games in Congo, Brazaville and a bronze at the 2014 Commonwealth Games in Glasgow has another chance of moving to the medal's zone with his next fight scheduled for Tuesday at the Riocentro Pavilion.
The Trinidad and Tobago opponent fell awkwardly on the canvass and the Russian referee did not hesitate to end the fight.
The manner of his fall raised fears when he hit his head on the canvass but rose up and wobbled to his corner. The Lion of the ring, Efe, pumped his fists to the sky enjoying the moment.
Efe's next opponent is also a huge and slightly taller whose left hook opened a deep cut on his Azerbaijan opponent. He groped to the referee and the referee in turn directed him to the Doctor who tried stitching it but it was deeper than they thought. The Doctor told him that he could not continue and he was flushed.
Coach Anthony Konyegwachie had said before the fight that his boxer was as good as a medal in the boxing event.
Rio Boxing: Ajagba starts with a knockout on Vanguard News.