By Denrele Animasaun
Who would envy a man who could not feel shame? Who would associate with a man who glories in his shame? In either case, he evinces a heart depraved, a mind demoralized – Joseph Bartlett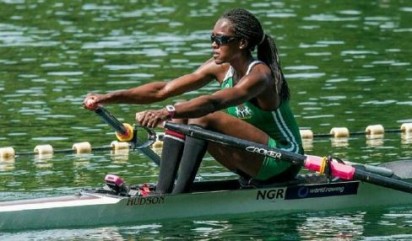 The Olympic Games in Rio opened to much-anticipated fanfare and splendour extravaganza. We all gathered round our TV screens to watch the world's finest athletes march past in all their nation's glory. Let's be honest, you always want your country to turn up looking their best and you reserve the largest cheer for them as soon as you spot them taking their rightful place in the stadium.
We all know that the Olympics comes round every four years and in between the last and the next Olympics, it is expected that the elite athletes are hard at work, honing their skills and pitting their strength and agility against each other and they know that the ultimate reward will be to represent their respective countries and win in their respective sporting fields.  And in order for them to perform to their full potential, it is expected that they will be supported, sponsored and accommodated to fulfil a nation's dream and pride.
Well, so you would expect four years will be enough time to plan a program for your elite sports men and women then? Enough to make sure that they are prepared to face the challenge in a world arena in the best sporting showcase in the world. It does not get better than this or so you would think.
As I watched as the countries file past alphabetically from A to M and waiting, anxiously for N and here comes… Nigeria, all 74 of them. In their white and green tracksuit, yes, in tracksuits so what happened to the pomp and pageantry of the national pride attires intended for the parade?   This was not the outfit they showcased when they met PMB and intended for the Olympic opening ceremony at Rio.
This may be disappointing but it pales into insignificance, to what the Nigerian athletes had had to endure in the months and days leading to the opening of the world's greatest sporting event. These magnificent men and women have been pushed from pillar to post; their journey to the Olympic village has been short of a miracle.
They say, if we fail to plan, then we plan to fail. Make of it what you will, but many of the perils and obstacles faced by the athletes could have been avoided if those in charge had learned from past misdeeds and disorganisation.  Nigerians and Nigeria expect these athletes to come home with clutch full of medals, and then they have another thing coming.
The horror stories have been pouring in as we hear that Nigerian athletes had to seek financial assistance through crowd funding in order to pay for their flights to Rio! What we saw was the despondency and frustration etched on their faces.
What does it take to understand that good outcomes only come with proper planning, robust investments and treating sportsmen and women with dignity?  One such athlete wrote on her social media appealing for help: "I know there has been a lot of these go funds me's going around, and I hate to further spam your news feeds like this. I have been selected by the Nigerian team to represent them in the shot put in this year's Olympic Games. But, the Nigerian team can no longer pay for my flight ticket to Rio. I got the email today, and because it's such late notice, the flights are all very expensive. Those of you that know me know that I hate asking for money/ hand-outs and I wouldn't make this fundraiser if it weren't absolutely essential. I honestly never expected to get this close to going to the Olympics. However, after working so hard to throw the Olympic Standard and to place first at Nigerian Olympic trials, it would be a shame not go on the account of political and financial reasons. Again, I am aware that I'm not the only worthy cause, so anything you can spare for my Olympic dreams would be greatly appreciated," This should have happened, there should have been a central sponsorship drive to sponsor athletes and invest in up and coming stars. There are many companies in Nigeria that could have used this as an opportunity to promote their products and provide much needed funds for these athletes.
There is a huge cog in the system; actually, the system is the cog! This is insane, every year and every four years this happens, and the anticipation is ruined by ill-prepared and corrupt officials who put their greed before the country's pride and progress. And everyone expects the athletes to perform against the very best in the world while they are treated by the authorities like beggars; it seems that the tail is wagging the dog. These athletes have proven their worth and the government should be proud that these sports men and women are   representing the country. This madness is killing talents in Nigeria and little wonder why many look elsewhere for sponsorship and another country to represent. It should be a privilege and a prestige to represent one's country but to make it feel that they are undeserving, it's a crime.
There are many so deserving and one such is an incredible young woman, Cheirika 'Coco' Ukogu, who should be making history for Nigeria in the 2016 Olympic as the first rower to represent Nigeria. Instead, she had had to appeal for funding on social media because she could not get any financial support from the Nigerian government. She started raising funding 13 months ago because she was not getting any financial support from the Nigerian government. She sought to raise fifteen thousand dollars for clothing, a boat and travel and entry fees.
And on her social media page she said: "I am not receiving any financial support from the Nigerian Rowing Federation, so my dream relies on your generosity! Money raised will go towards travel costs, entry fees, uniforms, boat, and anything needed to make the Olympics a reality! Please join me on my quest to make history in Rio. Hope that my athletic endeavours will inspire other Nigerians to take up rowing and experience the same joy I feel every time I'm on the water".
Coco is an impressive young woman who founded a non-profit organization called Flip Flops for Africa and donated 10,000 pairs of flip flops to Nigerians in need in 2007, a Stanford University graduate and she has her medical school training on hold to pursue her dream.
I am sure, we have enough billionaires in Nigeria who could have sponsored many of the athletes and inspire countless others through their altruism.
This is not new but none the less a monumental disgrace to the government and the responsible ministry. It is a disgrace that once again, athletes have to beg and grovel for money to train and travel because the money was not released. It is very disappointing that it always boils down to money.
I am sure money can always be found to display wealth and importance.
If Nigeria wants the best athletes, they should jolly well be prepared to pay for their training and upkeep.  Every time the Games come around, it is always the same old thing.  Everyone loves a winner but no one seems to understand that these athletes need funding to keep them at their peak in training as well as in upkeep.
Paralysis by analysis on Vanguard News.