By Josephine Agbonkhese
She has headlined both national and international news media since her election and subsequent investiture as the first black woman to preside over International  Inner Wheel,  the apex body coordinating the affairs of Inner Wheel Clubs; an organisation of women championing charity  causes in 103 countries of the world.
However, one aspect of her which previous reports have failed to highlight, even as millions of black women pray to step into her shoes someday, is her personality as a disciplinarian, one of the key qualifies that readied her for the exalted seat.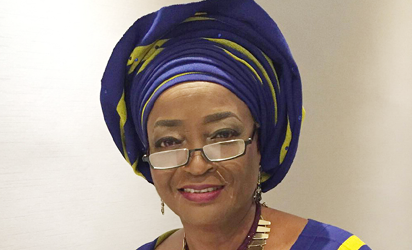 Mrs Oluyemisi Alatise isn't known at all for compromising standards no matter whose horse is gored. This same principle applied even in the home front while raising her six children. Yet, she would catch a grenade to heal broken hearts and restore hope to disadvantaged women and children.  In her quest to inspire women around the globe, Alatise shares this aspect of her life with Woman's Own.  Excerpts:
What has life taught you since July 1, 2016, when you became world president of Inner Wheel?
It has taught me a lot of humility. First, when I arrived Nigeria after my investiture, seeing my fellow Inner Wheel members gathered at the airport to welcome me, made me feel very humbled. In fact, tears dropped from my eyes. From that moment on, if any member says "Yemisi, this is what you have done…", I am too quick to say "I'm sorry, I didn't mean a harm."
But you're known to be a very disciplined, no-nonsense woman. Has that also changed since you now try to be humble in…?
(Cuts in) No, no, no. That has not in any way changed. I will not suffer fools gladly.  If you step on the wrong side, I will stop you on your tracks  immediately. I'm still humble but I don't suffer fools gladly.
As an obviously happy grandma, how did you balance such strict personality with being a caring mum?
It would have been great if you asked my children directly. A few years back, they (my children) would tell you "that woman is a witch."     That was because, when they were growing up for example, I would mark all their exercise books from page 1-20 and then give them jotters for any rough work. A sheet of their exercise books must not be missing! I taught them to cross pages in which they made mistakes and move to the next page rather than tear off any part. I was that much of a disciplinarian that I would check each week what they had done with their school note books. Thus, they could not hide anything academically from my purview.
A lot of my children's friends stayed in my house too; they would come on holidays  and just end up living with us. The few that stayed with me were treated just like my own children to the extent that they would say if you're looking for our mummy, that is this one (Alatise) but if you're looking for Mrs so so so, that is that one (referring to their biological mum).
One thing they (her children)say they also learned from me was the way I took care of my husband, served his food, etc. My children even taught I loved their daddy more than them because of this, and would not hesitate to complain about it. But today, they understand that it is just about showing and giving respect to whom respect is due. My children even believed I could sacrifice them for my husband.
What strategy worked most for you while raising them?
I actually disciplined them at young age without trying to pamper. Then when it was time they could appreciate love, I showed it. I don't believe in pampering children because I was brought up by a disciplinarian father.   If you show love to a child when he cannot appreciate it, you'll be spoiling the child and that child will not be useful to himself  or herself. Not that the child is neglected and not well fed. But when it comes to pampering, pampering must start at an older age because a child's character is formed already by age four, five. So, if you've instilled the wrong notion by that age, that is what the child will carry for life.
Simply put, everything you want to teach a child: discipline, respect, telling the truth, etc., must be done before the age of five. And you cannot do all that by pampering because the two do not go together.
Growing up, my father was a distributor of beverages but we were not entitled to a bottle of coke even though we sold drinks, except we brought a good result from school. Nobody dared to open a bottle of drink without receiving approval  from my dad. My children too, while growing up, dared not open the fridge to take a drink without asking me. I remember when my last baby who became a professor at the age of 28 in Warrick University bagged his Ph.D. When he got back home, with his suit and everything, he just prostrated  straight on the floor, holding my legs and saying "Mummy, thank you for never accepting failure or half measure." By the grace of Almighty Allah, I have six children; four girls and two boys.
People say it's difficult to bring up female children; what was your own experience?
Like I said, I didn't  pamper my girls; I pushed  them. I had no problem bringing up my girls and that was because I instilled the right morals in them before the age of five. Just instil respect into the mind of the child! Respect is very important—respect for self, parents and anything that is not theirs. They were taught never to pick anything that was not theirs without permission. That is respect for other people's property  and it reflects in every other thing they do. I taught my girls all I needed to teach them before the age of five, and at the age of nine, I sent them to boarding houses; Federal Government Colleges in  Ikot Ekpene and Gboko, while we lived in Lagos.   By the age of ten, my children were already set to face the world and I had not a single problem, whether morally or academically, with any of them. I was actually at home doing business during all these times because I had resigned my job to face my family.
Women today take up demanding jobs just like men; how does a working mum achieve same feat?
I had an aunt who told me I should never chase two things at same time because I won't have them both the way I want it. Women have to grow in their careers these days, yes I know, but then, they must choose the job that will allow them time for their children. This is because the money they're going to make will not be enough to mend those children if not well molded when still in their raw form. The money you make when chasing career and neglecting your children can never be enough to mend their lives.
You were one of the 40 persons from different countries who contested for this position at Inner Wheel; what stood you out?
Since 1984, I've been attending international conferences. About 12 years ago, I was spotted by the then international president who gave me an assignment to do a research about cervical cancer in Nigeria. I went to hospitals, did the research, and also looked at what Inner Wheel could do to help. I submitted a very good report with the help of a few friends. A year or two later, I was asked to handle a workshop on micro-credit which eventually landed Nigeria some joint  projects with other countries on micro-credits. Above all, I'm a vocal person. If a discussion is going on and I have my opinion to express, I will rise up and talk even in the midst  of one million people. I however make sure I don't talk nonsense. I soon started getting invitations from virtually all over the world to attend conferences and present papers. I even went as far as learning French to aid communication.
I also provided platforms for other members of Inner Wheel Nigeria to travel internationally and explore, but making sure they didn't disgrace Nigeria when we got there. I've actually been projecting Inner Wheel Nigeria's image internationally for 15 years. I therefore became known everywhere. Above my efforts anyway, I want to recognise the finger of God.
What sparked off your interest in philanthropy?
My late husband joined the Rotary Club of Lagos in 1977 and in 1978, I was invited by one Mrs Iyabo Oni to join Inner Wheel. I however joined because it tallied with my interests in life- helping people. When I was in secondary school, during the Civil War precisely, some groups came to my school to solicit for used clothing for children our age group in the East. They needed volunteers and I stood up. From then, I went to different schools, giving announcements on their assembly grounds for them to  bring their used clothes so I could wash, iron and take to the group collecting them. Soon, when the group saw my dedication, they formed a club called Youth League of Nigeria for Relieve Duties, which I joined.
Inner Wheel is the sister body of Rotary; has Rotary ever had a black international president?
Yes, and that was also a Nigerian in the  person of Rotarian Majiyagbe. Since then, no other African has risen to that position.
…and how sure are we that your tenure would open doors for other black women to also occupy Inner Wheel's apex seat?
I will make sure I leave a good legacy. I pray God gives me the strength and wisdom to leave a good mark. I will not disgrace myself nor disgrace the black race. It's a very tough competition but I try to push other members in Nigeria to execute outstanding assignments on international levels because I hope to keep projecting other African names to the international body. More importantly, in our 103 countries, I plan to ensure the growth of new generation of  members. As part of my schedule as International President, I will be visiting various Inner Wheel districts and clubs in our member countries.
Your chosen theme 'Touch a Heart' is fast becoming a mantra. Tell us what it's all about.
Touch a Heart derives from Inner Wheel's object  to promote the ideals of personal service. Touch a Heart gives birth to kindness and teaches us to be generous with our time, money and willingness to help. It teaches us to be each other's keeper, ensuring safety, security,  comfort and wellness. It teaches us to be kind also to the earth in our interaction with animals, plants and the entire universe. Above all, it teaches us to be kind with our words because words, once spoken, are like broken eggs. Touch a Heart teaches everyone to ask themselves at all times: "What can I do to help?"
Your background in one minute…?
I was born on Christmas day into a large, polygamous family of ten. I'm the third child. I had my primary, secondary and tertiary education in Lagos and worked briefly with an insurance brokerage firm, from where I moved to a pharmaceutical company. Afterward, I went into farming and trading when I got married because I wanted to be my own boss and manage my home properly. My son manages the plantation now.
At the age of 40, I went back to the university for a Diploma in Law. I did very well and got sworn in  as a contract magistrate. I left the  judiciary after five years to join my husband in running Tuntise Investments  Limited, a consultancy outfit that is also presently into mining services.
I'll not disgrace the black race – Oluyemisi Alatise on Vanguard News.