By Dapo Akinrefon
Senator Florence Ita-Giwa, also known as Mama Bakassi, is one-time Presidential Adviser on National Assembly Matters. She is also the political leader of the Bakassi people. In this interview, Ita-Giwa says the ceding of Bakassi in Cross River State to Cameroon is a permanent injury that requires permanent healing. Excerpts: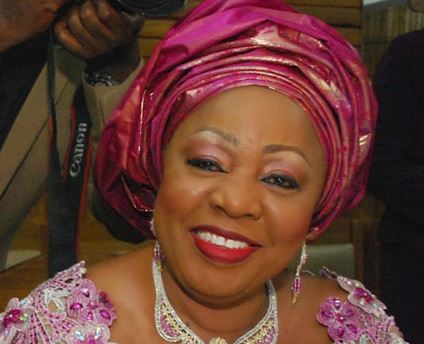 What is the present state of the Bakassi people?
It is unfortunate that up till now the Bakassi people are internally displaced in their country. It is unfortunate that this country has not resettled the Bakassi people. But what is giving me hope  is that President Muhammadu Buhari is a very passionate person   and, as a President who is seen as a man of the people, he cannot be insensitive to the plight of the Bakassi people. So we are counting on him to, as a matter of urgency, hearken unto our cry and set up a committee that will ensure proper resettlement of the people or implement the report of the  Efiok Cobham committee set up to address the issue of Bakassi under the supervision of former Vice President Namadi Sambo. Now, back to your question, the situation in Bakassi is hopeless.
There is so much suffering inspite of the fact that I and some other political leaders have devoted so much   time, money and resources for  the peoples welfare. There is a limit to what an individual can do. There are no social amenities there. No water, no light, no school, no food, nothing to sustain the people and they are procreating, the numbers are increasing each passing day. It is not our fault that we were ceded without due process, but we have chosen to be Nigerians and our rights which are fundamental should be protected.
What is the relationship between the Bakassi people and the host community in Ikang?
We are so grateful to the Ikang   community for hosting us thus far giving us soft landing. We have been living together as brothers and sisters. However, it must be noted that Ikang itself has not been developed to cater for the IDPs they have accommodated; so we are appealing that social amenities should be adequately provided for them.
Second, we are predominantly fishermen and we cannot survive without water. So, the DaySpring1 and 2 where we were registered as Nigerians by INEC and where we voted and were voted for should be developed for us to be able to live happily. We are not unaware that there were many mistakes that the Federal Government made and the ceding was haphazardly done, but as peaceful Nigerians who love their country, we decided to live with and manage their inactions. For instance, the document that ceded us has not been domesticated for ratification by the National Assembly till today as provided for in the Constitution, but we are determined to tread the path of peace instead of engaging in agitation.
What has Cross River State government about the plight of the Bakassi people?
We are fortunate to have a governor who is passionate about the plight of the Bakassi people. Governor Ben Ayade is very sensitive. He feels our pulse and he has been working so hard to improve the lots of the Bakassi people. But let us not forget that the Bakassi case is a national and international matter. There is a limit to what he can do considering the lean resources available to him and his administration. He is doing his best. All Cross River oil wells have been taken leaving it with the lean allocation coming from the Federation Account and little internally generated revenue. So I appeal to the Federal Government to assist the state so that it can do more and I am confident that whatever that comes to the state will be properly utilized. However, may I add that the Bakassi issue is not political issue or local issue. It is about human beings. It is about a people whose heritage were taken away. Their deities, churches, shrines, even places of rest of their forefathers were ceded. Do people really appreciate the pains that Bakassi people are carrying? This is permanent injury that has been inflicted on us and we want a permanent solution. It is not a burden that Ayade and Cross River State government can carry. At no time are we blaming Buhari but government is a continuum. So President Buhari, as a man of the people, should make life better. He has won  election and the PDP accepted his victory; by so doing, he is the father of all. Who else are we going to cry to if not him?
It was reported recently that over N9 billion was voted by previous administrations to develop Bakassi. What is your take on this?
If N9 billion was released, why are there still IDPs? This mind-blowing figure is frightening; so it will be interesting if government tells us what it was used for. I want to also use this medium to advise Niger Delta sons and daughters that whenever they are given political appointments, such is meant for them to develop the region but sadly, people saw it as opportunity for self-aggrandizement. This is one of the reasons we are experiencing this strait. I want to also call on President Buhari to do the needful for the deep sea port to take off. This will allow income into the system and alleviate the suffering of the people.
It has been observed that you are less active in politics now and some people expect that you should have given up on activism. What is your take on this?
I went into politics because I needed a platform to address the issue of Bakassi and to also use that same platform to help the underprivileged; to speak for the voiceless people who are being trampled upon. I did not go into politics for the purpose of contesting and winning elections only and I will not stop agitating until my people are properly resettled. It is true that I have slowed down politically but this is to allow me more time to face the reality on ground which is my Bakassi people and I intend to continue to fight their cause.. So, I will continue to make case for them. It is not just about the over 4,000 refugees in Bakassi, it is also about their children and the unborn ones. We owe them this commitment and we will continue to agitate. It was through peaceful agitation that we were about to get a local government from the late Head of State, General Sani Abacha. But be assured that our struggles will always remain peaceful because we cannot destroy our fatherland.
Florence Ita-Giwa: The Mama Bakassi Story on Vanguard News.