By Ayo Onikoyi
Getting my bra size can be very difficult  — Ronke Ojo
Veteran Yoruba actress is arguably the most frontally endowed woman in Nollywood. Even other busty actresses have had to doff their hats to her, for being the number one in the mammary region, saying she belongs in the A-category.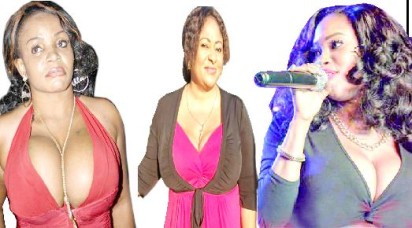 "Getting my bra size can be very difficult. It makes it more expensive. I always want to 'pack' myself. I wouldn't want to appear in a movie where I would need to run or walk fast and my boobs would be bouncing. I don't like it. When you 'pack' yourself very well, when anything happens, you are ready. I have to go the extra mile to look for good bras.
"I spend at least N10,000 on a bra. At times, I get my perfect size when I travel abroad, especially in the US. If anybody is going to the US, the only favour that person can do for me is to buy bra for me. It is the only gift that I can appreciate from anybody and it would make me happy," she lamented.
When guys look at me, they see nothing but my boobs — Ebinabo Potts-Johnson
Maybe her chest isn't as heavy as Cossy Orjiakor, or as monstrous as Foluke Daramola's, but upcoming actress and model, Ebinabo Potts-Johnson has a pair of mammary that stand out –  far out from her chest to get you thinking you are seeing a trick of nature or something.
"Although God put it there and really, at some point in my life I was actually thinking that I need to reduce this thing (her boobs) because most times when people see me, it's just the boobs they're seeing, they're not seeing the other parts of me. It can be embarrassing that people can only see you as a sex object" she complained.
"Sometimes you just don't know why  a guy is coming after you. You don't know whether it is because of your personality or your body. Though I don't like to think a guy is coming for me because of my body but I get compliments a lot over my boobs. Sometimes. A guy just passes and says, ""Wow, your boobs are big" and I just give a smile and walk off.
From my mum to my sisters, everyone is blessed — Ejine Okoroafor
When they talk of Nigeria's queen of boobs, the names like Cossy Orjiakor, Ronke Oshodi Oke, Foluke Daramola and others come to mind, forgetting there are a couple, like Ejine, around who would have all these screen stars going green with envy.
Hers is natural and seems to have something of bloodline about it. "Everybody in my family has big boobs. It is something that runs in the family. From my mum to my sisters, everyone is blessed" she once told me.
No direct sucking, no breastfeeding for my kids — Cossy Orjiakor
Boobs-toting Nollywood diva and singer, Cossy Orjiakor, is never one to go missing in a crowd. Not by a long shot. Her humongous mammary has become such a legend, that both men and women cannot ignore her. Though many may find her repulsive but it doesn't seem to take any hair off her skin as she flaunts them readily anywhere the opportunity presents itself
The Nutty Queen crooner recently took to her Facebook page to tell her fans how much she cherishes her boobs by heaping praises on God for bestowing her with such gift of life. "I am so grateful to God for this lovely boobs. Though sometimes they are such a burden. The load gets big but I love them" she says. " In ten years my boobs will still be firm and good because I will use sucker to pull the milk for my kids. No direct sucking. No breastfeeding" she quips. Then, she added a line that must have got some guys day-dreaming "OMG My boobs fell out again yesterday at TBS. I was so shy of myself as a guy helped package it for me "
Guys always want to hug me — Mitchell Ozakpolo
For Mitchell Ozakpolo, her gigantic boobs are blessings from God and she thus feels no scruples, flaunting them. She once said she elicits the most shocking responses from guys, who at many instances look for excuses to want to hug her
"Some would beg me to just provide them a hug.When guys react that way, I don't blame them because they love what they see. I know I have the hip and peak to carry my boobs. From time to time, when I walk  the streets of Yaba, Lagos, particularly, most of the guys there can't help shouting 'Jesus Christ all these boobs for you by myself?' Are these all yours?' they might expect me to reply to them. I do answer them anyways and they  hail me and say 'yes mama I really like that'. I try to avoid bus stops because when guys see me, they scream 'wow' and I do respond too 'wow' that's just my lifestyles" she said of her boobs and their effect on guys.
Even kids buy me lunch because of my boobs
— Annette Cookey
Beautiful, sexy and  petite singer Annette Cookey has said she often gets sexually harassed by men who curry sexual favours from her.  Looking at how cutely her chest is stacked with those twin towers the reason stares one in the face.
"I am not going to say that I am a sex symbol but for some reasons, I often get sexually harassed and that really affects me as a person," she quips in an interview.
Speaking about her special assets, she said her eyes, voice, stature and boobs win her some nods but the boobs are top.
"I was standing somewhere recently, and a guy saw my boobs; he had to take some steps backwards and fixed his gaze on my boobs; he didn't turn. I now asked him what he was doing but he pretended he was not doing anything. Even little children are affected by my boobs. The other day at the cinemas, some kids offered to buy me lunch because of that. So I get that a lot," she said of her boobs
Boobs tease: Damnedest things e-stars have said about their boobs on Vanguard News.