By Muyiwa Adetiba
One of the things that made this evening interesting is that it was totally unexpected. I did not know when I woke up that morning that I was going to have dinner outside my hotel. My guide, driver and custodian for the day simply let it out that we were going somewhere to have dinner just as we were rounding off the day's event. He saw the look of surprise on my face and he jocularly but aptly said that I had entered a 'One chance' vehicle.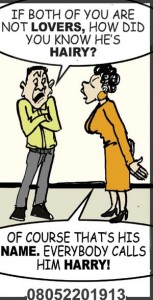 'One chance' to those who are not familiar with life in Lagos, is when a commuter enters a commercial bus that is literally going nowhere. It is a bus where the sitting passengers are not commuters but miscreants who drive to a secluded place to strip the one or two innocent and unfortunate commuters in the bus of their money and phones. In this instance however, he meant I was in a vehicle I had no control over and because of that, I had lost control over my movement and time.
He was right. I had no idea what kind of dinner it was going to be, and who was going to be there apart from those in the vehicle—not that I knew many people in town anyway. I didn't know if we were going to stop by, have a delicious meal and be on our way. The first two turned out to be correct; we did stop by and have a delicious meal. Several Nigerian dishes were on offer; the aroma was overpowering and the meals did not disappoint.
They were hot, spicy and very tasty. The latter was completely off the mark however. There was not going to be a quick get-away. The early inkling was when guests, familiar to the hosts, started trickling in with their spouses. In fact, we were there until past mid-night.
This was in Toronto, Canada. And because I am a first time visitor to the country, I crave the indulgence to describe the journey that led to this 'one chance' encounter. An invitation had come to attend a family function in Toronto. I accepted because it would have been graceless to refuse and because it was an opportunity to visit this North American country.
But because I am a citizen of only Nigeria— I met 'a Nigerian' on the trip who boasted of three nationalities—I required a Canadian visa. This, as anybody who has gone through this process in Nigeria would attest to, is no mean feat. Five years ago, I had written about the ordeal of a group of people who had their passports locked up for almost six months in a bid to get Canadian visas.
I was luckier in the sense that mine stayed with them for 'only' about three months and was released just one week before a scheduled trip to the United States—never mind that the uncertainty raised my blood pressure a few notches. The Canadian authorities must ask themselves if there is no other alternative to keeping peoples' passports locked up for months while 'visa processing' is going on. They must find out how other busier countries manage to perform their due diligence in far shorter periods.
First impressions matter and the first encounter of many people with Canada is through the visa process which can be a lot better and which tends to put people off since it portrays the country as an uncaring and unfriendly one. This in reality, is far from the truth. The Canadians I met on the trip were polite and friendly. It could be because I came in from the US but the immigration was smooth and almost routine. A full plane load of people went through immigration in less than ten minutes.
And outside, I found smiles and support from total strangers. Not once in my two weeks stay across different provinces did I encounter overt racism. People, especially in rural, agrarian provinces, walk up to you to start warm, friendly conversations. An elderly lady did just that in Yorkton, an aging community in Saskatchewan, Northern Canada. She met me in a supermarket and after 'chatting me up' for about ten minutes, virtually dragged me to her husband. It turned out they were married in the year I was born!
Canada shares so many boarders with the US that they could easily have been the same country. In fact, it is easier and cheaper to get to some cities in the US than in Canada itself and vice versa. It is therefore natural that there will be many similarities. I see Canada as a slower, more languid US. None of the frantic, frenetic pace that are common place in New York or Chicago would you find in Toronto for example. The other Canadian cities are even slower. They start work usually at nine and like the
Italians, take their siesta very seriously. Other differences are more pronounced. Murder, rape and other violent crimes are far less in Canada. Their politics also seems less divisive. US seems like a country that is angry with itself while taking its many achievements for granted. Canada on the other hand seems to warm up to itself and extols its few achievements.
They are both immigrant countries. One tries to deny its immigrant status while the other tries to embrace and glory in it. This makes Canada much more accommodating of its racial diversity. Canada on the other hand, needs the energy of youth to give its aging population some vibrancy.
So this fateful morning, I had expressed the desire to visit the Niagara Falls. Some members in our group also expressed interest and so off we went. It was a refreshing experience that was capped with lunch. The Niagara Falls experience is another example of what Nigeria can do with its many natural endowments to generate income and employment. This was the precursor to what turned out to be a delightful evening. The driver of my 'One chance bus' is a politician who once narrowly lost out on a senatorial election.
His friends at the dinner table included a former Managing Director of a bank, a former Students' Union leader who now has a doctorate in architecture, a medical doctor and a couple of professionals. It was obvious that they were all very successful in their different vocations.
The topic on the table was not the Olympics, or the American elections. It was on Nigeria, its many opportunities and mistakes. The politician accused his friends of 'making it' and abandoning the country for an easier life in Canada. One by one, they talked about what they had done from the Diaspora and how their efforts were frustrated by 'small men in big offices'.
My take-away that evening is that there are many successful Nigerians in the Diaspora who would gladly reach out if the atmosphere at home was conducive. Even those who claim to have given up on Nigeria are still emotionally attached to their motherland. They should find a way individually and collectively to make a difference. I also found out that some politicians like my 'One chance' driver are as passionate about Nigeria as any one. Together, we can make Nigeria great.
An evening in Toronto on Vanguard News.